Hi everyone,
It's been a long time since I've posted here, but last time I did I received very pertinent and helpful answers.
Hoping this will happen once again now, and also maybe help others with the same issue.
So my problem is when I try to install Windows 7 x64 in UEFI mode on my new Asus Prime X399-A motherboard (TR4 socket with Threadripper 1920X CPU installed). Also, this is being installed on an M.2 NVMe SSD from Intel 760p series.
I have made a bootable USB flash drive with Rufus and this is the error I'm getting when trying to boot from it:
Status: 0xc000000d
Info: The boot selection failed because a required device is inaccessible.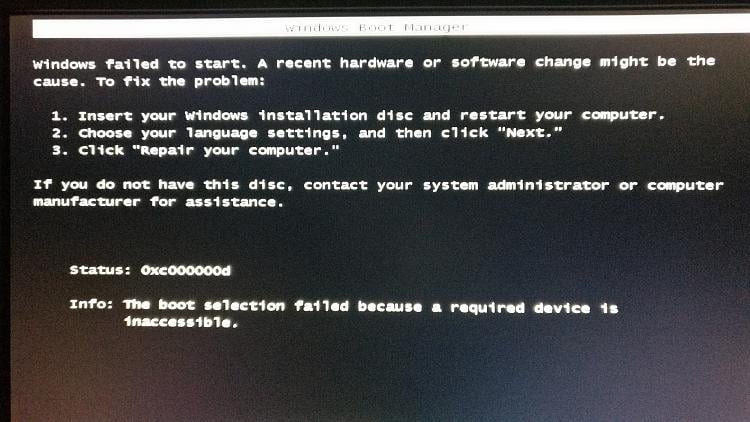 I have deactivated Secure Boot under BIOS: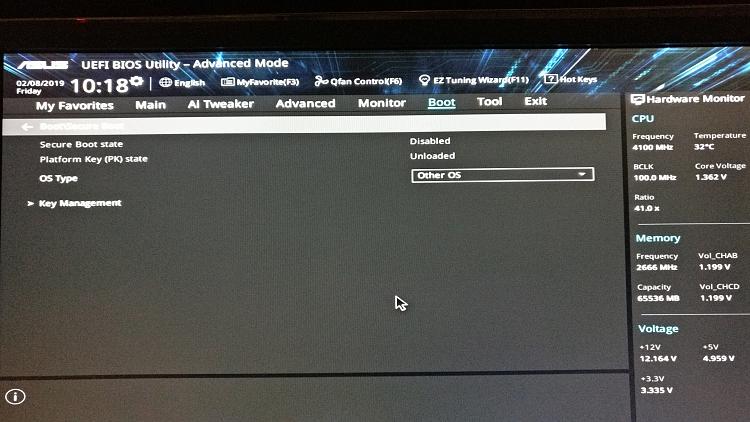 Other BIOS settings I've made:
- CSM (Compatibility Support Module) configuration: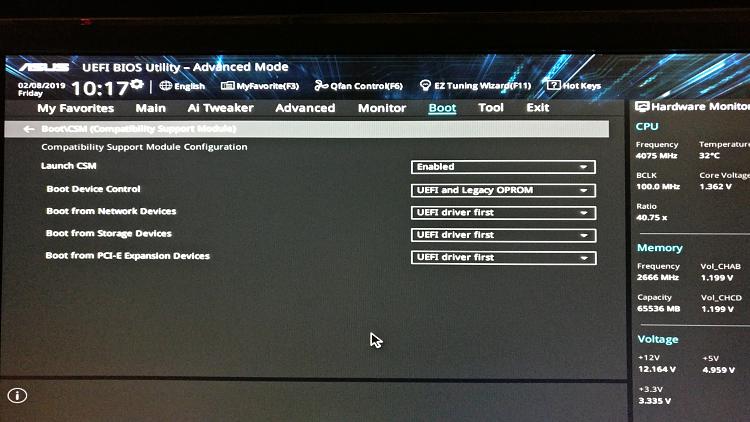 - Boot Configuration:
- Fast Boot has also been disabled
These are the settings used in Rufus to make the bootable USB:
I have to note that this is an image I made myself by downloading untouched MSDN image of Windows 7 SP1 x64 and slipstreaming Simplix update pack which contains all updates to this moment (Jan 2019).
This will make the install.wim file of 4,66GB which makes it impossible to create the bootable USB under FAT32 file system. So NTFS was the only way to go.
I'm certain that I've done everything correct when creating the Windows image with slipstreamed updates because I also tried creating the bootable USB with MBR partition scheme and installer booted just fine.
By using Asus' EZ Installer tool and slipstreaming USB 3.0 & NVMe hotfix in the installer, Windows 7 was successfully installed with MBR partition scheme, this is how I know the image I made is fine.
But MBR is not what I'm after. I know that in Jan 2020 Microsoft will drop support of Win7 and probably not long after I will start having problems with unsupported software. Plus that if I upgrade to an RTX GPU, I will not have RTX support on Win7. So I know installing Windows 10 is inevitable, I'm just waiting for a more stable version and am not in a rush. I also am not a fan of Win10...
Because I'm after the possibility to have 2 separate Windows' installed (7 & 10) and boot up whichever I require based on my needs, I need to install Win7 with GPT partition scheme and (why not) NTFS file system.
Perhaps others with Asus motherboards have run into the same issue and know a fix for it.
If this has been already discussed, apologies. I did search the threads, but have not found this particular error when trying to install a fresh Windows.
I'm really hopping there's something I missed and there's a workaround for this because I know for a fact Win7 x64 does support UEFI mode.
Since making the bootable USB with the exact same settings for Win10 did launch the installation process, it seems like there might be something missing from the Win7 installation files, I'm just not advanced enough to figure it out.
One more thing I want to point out: I did also try to disable CSM from BIOS and that was a major mistake. My PC refused to boot, only a black screen came up. Then I used a jumper to shortcircuit PINs 1 & 2 in order to reset CMOS as specified in the manual and then my PC wouldn't even power up anymore. I had to repeat the process TWICE with the battery removed in order for it to work.
So disabling CSM is a no go.
I googled all I could and tried my best to figure it out by myself by changing different BIOS settings, but I'm stuck and need input from more advanced users.