A simple guide to a successful in-place upgrade
You have most likely heard that a clean (custom) install is the preferred install method when migrating to Windows 7. That is most certainly true. However, there are situations when in-place upgrade is more practical method to use. Tens, maybe hundreds of gigs software installed, no install media found for the software and so on.
You might have heard horror stories about non-working Seven and how it's all in-place upgrade's fault, or how an in-place leaves so much unwanted and not used pieces and bits it seriously puts your system in danger, at least making it slow. Most of these horror stories come from two types of users, those who have never done a Vista to Seven in-place upgrade but have heard third hand information and rumours, and those who have not prepared installation as it should be prepared.
I have done a lot of in-place upgrades, both from XP to Vista and lately from Vista to Seven. I have even successfully tried a one-session XP to Seven via Vista in-place upgrade (in-place XP to Vista, installing service packs and drivers and then directly in-place further to Seven), to show some colleagues how to do a safe and working upgrade. I have never encountered any upgrade related problems; I do have had my share of installation problems and issues but I've always found out that after failing to do an in-place upgrade, the same issue has occurred also after a clean install. Most often the reason is non-compatible hardware. You cannot blame in-place if your hardware refuses to work with Seven.
First, let's take a look at the chart about in-place options:
(Click the images to show them bigger)
As you can see it is not possible to "downgrade when upgrading" i.e. you cannot in-place upgrade from for example Vista Ultimate to Seven Home Premium. You need to have the same or better edition (notice that you can in-place upgrade to Seven Professional only from Vista Business). Your current Vista needs at least service pack 1 to be able to upgrade to Seven.
Notice please:
You can only in-place upgrade to Win7 from Vista. Older Windows versions (XP, 2000 etc.) can not be in-place upgraded to Seven
You cannot in-place upgrade a 32-bit Vista to a 64-bit Seven or 64-bit Vista to a 32-bit Seven
The language versions have to match, you can in-place upgrade an English Vista only with an English Seven
So, let's start. This guide will show you how to prepare and do an in-place upgrade from Vista to Seven. Following these steps you are most likely to get it right first time.
1. Check the compatibility issues
Download and run Windows 7 Upgrade Advisor
Follow any instructions given
Uninstall all incompatible software, update drivers and software if Advisor tells so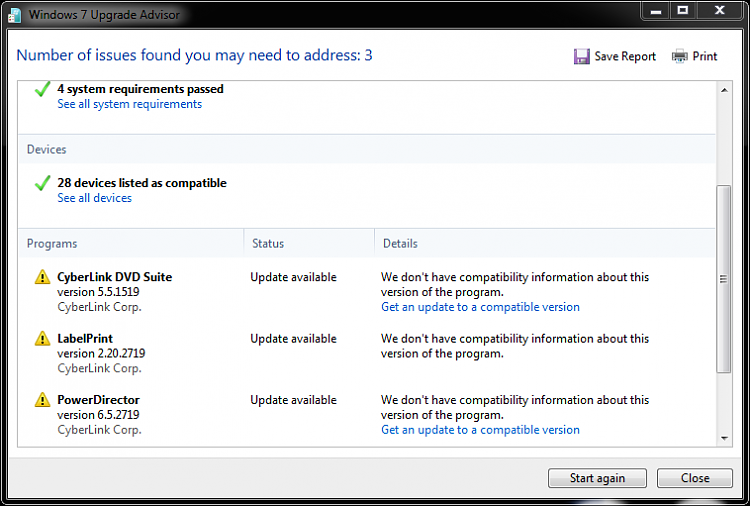 2. Prepare your system
Update (flash) your system BIOS to most current version
After flashing BIOS, restore it to factory defaults
3. Prepare your software setup
Uninstall all applications and software you never use or which is expired (test and trial versions, software you know you are never going to use like the game you tested but didn't like etc.)
Update AV and Firewall software to the most current versions, including virus definitions
Turn off AV, Firewall and all malware software. Remember to turn them on again after installation is finished
Check and run Windows Update until it tells you Vista is up to date
Clean up your system deleting all unnecessary files like temp folders etc.
Backup your system
4. Prepare your hardware setup
Check Device Manager to assure all devices are working
Disconnect all external devices, leave only the main display, mouse and keyboard
If upgrading a laptop, be sure it is connected to an AC power source
That's it. Insert the install media and start doing an in-place upgrade. Please notice this is the most boring part of the process; an in-place upgrade can take hours as this chart shows:
An in-place upgrade can easily take longer than doing a clean install and re-installing all the software. If you don't have too much personal files to transfer, only have a limited amount of applications to re-install and if you have all install media, I recommend doing a clean install. Remember though there's nothing wrong doing an in-place upgrade. It works well and fine when done right.
Enjoy your upgraded system. If you have any questions or concerns, please feel free to ask.
Kari