This is all good. You have an "Image" saved and all your files backed up, Vista and 7 install DVDs.
Question: Is your 7 Ultimate a full version or an upgrade version?
Yes, if you have saved all your files it would be much simplier to not have to deal with all the extraneous partitions. You can always reinstall Ubuntu afterwards, version 9.10 is available with an updated version of Grub2 that should make it easier to dual boot with Ubuntu.
If I may suggest, the "SystemRescue" CD here:
Hard Drive Partitions - Changing with GParted
has a copy of GParted capable of managing Windows partitions. If you are going to use Ubuntu, then this tool will be helpful. I woke up this morning thinking the GParted you were using in Ubuntu probably did not have the Windows file systems added to it so that is why you were only seeing the one partition "/dev/sda". If you are prepaired to remove everything but Windows, get the "iso" file as described and use Vista to burn it to a CD. Then boot to it and use GParted to delete everything here marked with an "X", extend the C: partition all the way to the left (to the beginning of the drive) and leave the rest of the unallocated space at the end of the drive: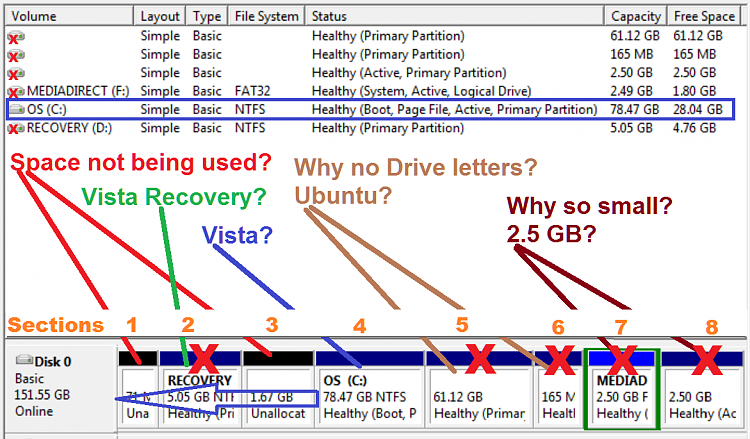 Yes, you are absolutly correct, I was using very un-computer techie wording calling the spaces in the picture 'sections'. Sorry. The "Volumes" are another name for "Partitions" and yes, there are 6. I numbered what I was refering to as 'sections' for clarity, there are 8 counting the two "unalocated" spaces.
If your Ultimate 7 is an upgrade disk, you will want to start the install from Vista, then follow the "Custom" install path as pictured here:
Custom Install Windows 7
If your Ultimate 7 is a full version disk, then boot to the install DVD and follow the "Custom" install path.
I will be back this afternoon ... see you then.