Before everything went wrong:
I had XP and 7 installed on same 465 GB HDD like this
C: XP ~40GB
D: W7 ~130GB
I: other stuff like movies etc ~293GB
Xp became useless and I decided to format it and allocate the 40BG between C: and I: using some partition program which name I can't even remember. So I applied the process and everything went ok until at 77% a powercut shut my pc down.
Situation after the powercut:

At startup bios gives me error which says something about selecting proper boot device or something and nothing happens. I booted from Ubuntu live cd and using gparted I got a screenshot of partition table: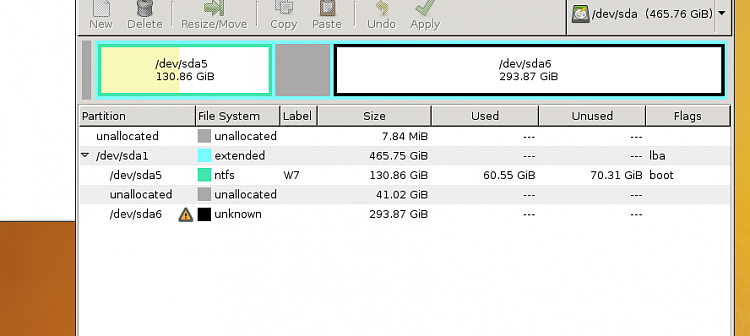 The I-partition is pretty much ****ed up but the W7 partition seems to be ok. I added the boot flag to W7 partition (didn't exactly know if that was the right thing to do).
W7 install DVD won't help


I've tried to fix this boot issue by using the W7 install DVD but so far it's been useless. After clicking the
Repair your computer
the W7 installation doesn't show up in System Recovery Options list but I clicked next anyway. I ran the
Repair startup
-thing at least 4 times and it didn't work (maybe because the recovery tool doesn't recognise the W7 installation). I also tried this BOOTREC thing on Command Prompt:
C:\>BOOTREC /FIXMBR
The operation completed successfully.
C:\>BOOTREC /FIXBOOT

Element not found.
C:\>BOOTREC /REBUILDBCD

Scanning all disks for Windows installations.
Please wait, since this may take a while...
Succesfully scanned Windows installations.
Total indetified Windows isntallations: 1
[1] C:\Windows
Add installation to boot list? Yes(Y)/NO(N)/All(A):Y
Element not found.
I also noticed there's no boot-folder on C: (should there be?)
Any ideas?


At the moment I just want to get my Windows working again, the lost files on I-partition aren't so important. All suggestions are highly welcome. Thx..