Using Language Packs to change the complete Windows language is possible in both Vista and 7. To be able to use this feature, you need an Ultimate or Enterprise edition.
In Ultimate (or Enterprise) you then have the option to
change display language
. This changes your OS completely to chosen language; everything from Paint and WordPad to IE through Windows Explorer and Help files is then in your chosen language:
(Deutsch = German, Suomi = Finnish, Svenska = Swedish)
Language pack changes the language of chosen user account, making it possible to have different user accounts in different languages. The change of language is complete on chosen user account. The change must be applied when being logged in to that account. You can not change the language of user account A when logged in to account B. Language is changed next time user logs out and back in.
I've sometimes read on these forums about how updates or some drivers do not work when using a language pack. This is simply not true; language packs work perfectly. I've been using language packs since it was made possible, early 2006 in Vista Beta, and I've never encountered a problem. For me and my complicated situation (From Finland, living in Germany, working in English and Swedish) language packs are essential for me to be able to use computer as I want.
The language packs are available as optional updates in Windows Update (when you have Ultimate or Enterprise). Currently you can download and install 35 different languages: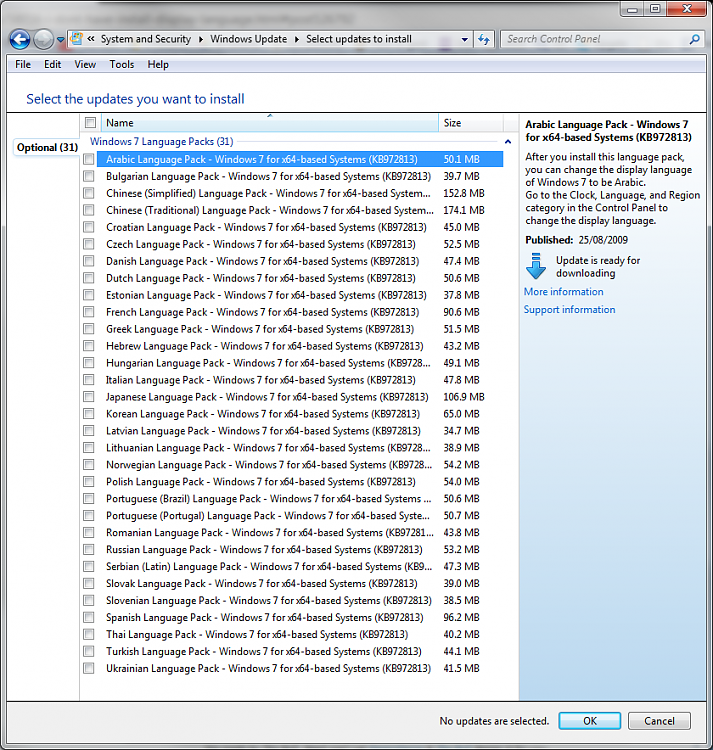 (The screenshot only shows 31 because I'm already using English, Finnish, German and Swedish.)
There are some unofficial methods allowing language packs also in Home and Business editions. Because these methods are all against
EULA
, and because of multiple problems these hacks are causing, I'm not going to advice on how to use them.
Kari
P.S. My logon screen showing my language options: