Hello SIW2 sir,
It's a humble presentation to you From Arc.
I am a great fan of you. I honor your supreme knowledge and respect your extremely high efficiency. I always follow your posts and tutorials; I learned a lot from those, and still doing so. I also remember that when I was a newbie, I exited
Installation & Setup - Windows 7 Forums
forum at your one word. Returned there after a long gap.
But sir, at the present issue, what I am saying is possible. Let me prove it. It is my disk management window. In disk 0, win 7 is installed in the primary partitions, and in disk 1, in the primary partitions, there are linux and swap for linux. I am planning to delete first three partitions (two primary and one logical extended) using XP cd.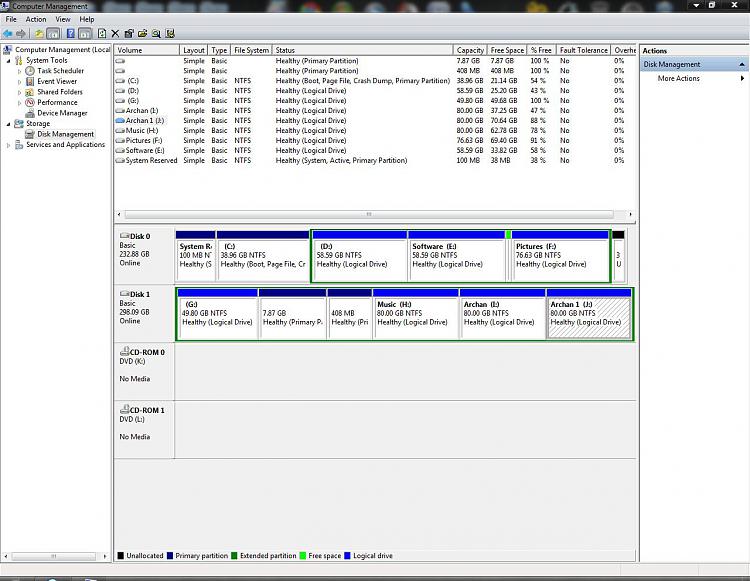 So I booted from XP cd, and it is the disk info as per the XP cd (I detouched the disk 0 earlier, hence G,H,I and J is shown as C,D,E and F)
Deleted C, I and J (I an J are primary, as linux were there, the format is said unknown there) and got the total free space as unpartitioned, as per the image below
Now created a new partition there in the free space, formatted the partition using XP cd, exited from installation, attached disk 0 again and took the disk management screenshot which is this
So I if can , why anyone else cannot?
Sir, please dont take it otherwise. I just tried to justified myself. ( and in this process I lost my nice beloved Ubuntu linux installation.)
Hope you will accept my words. Waiting for your opinion in this regard.