Hi rsv,
From your screenshot, C: is the System partition - it contains the 7 bootfiles.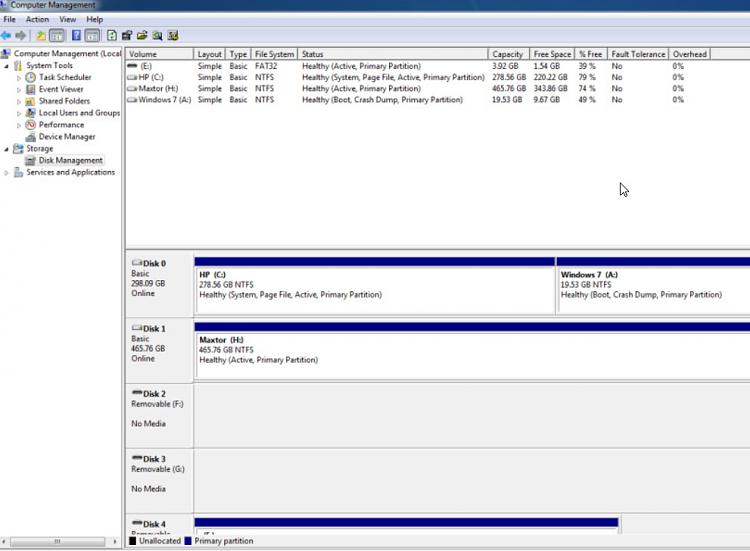 1. First, make 7 (A) the System partition :
Go to Folder options, dot "Show Hidden Files,folders and drives" and untick "Hide protected operating system files".
You will see bootmgr and a yellow Boot folder on the C drive.
Copy them both to the A drive. ( It won't let you copy bcd - skip it).
Open an elevated command prompt and type:
bcdedit /export C:\Boot\bcd A:\Boot bcd
Go into Disk Management and rt click A and mark as active.
I assume 7 is the default boot option in the boot menu - open msconfig, click the boot tab, highlight the Vista entry and delete.
Reboot into 7.
You no longer need C.
2. You need a 3rd party partition manager to get the 7 partition into the lower address spaces on the left. It cannot be done with Disk Management.
You can use the "Move " function on Gparted boot cd - and do a startup repair to correct the bcd entry.
Or you can delete C and use the "Copy partition"function on the Paragon boot disc to copy A to what is now the unallocated space where C was - it will update bcd for you.
You will be able to boot into both the new copy, and the existing A partition.
To keep only the new copy, Mark it active, reboot and delete A. Then you can extend the new partition into the unallocated space on it's right.