Good Day Gentlemen!
profdlp, thanks for the advice, I will endeavor to adhere to it, within the boundaries of my personality

!
gregrocker,
I installed PW this morning and am at a loss between the differences shown by it and PW CD. First the Drives were reassigned with PW. C:MBR1 became Disk 2 and F:MBR2 became Disk 1. It also shows 2 small unallocated spaces, one before and one after the C:MBR1 System Area/MBR1 partition, which were not there on PW CD or on Computer Management/Disk Management that I ran this morning, although it still shows the 200 MB unallocated space preceding the F:MBR2 partition. This begs several questions that can be answered after the main problem is fixed.
Following is the Display of PW Home Edition.
1. Why would the Display in PW be different than PW CD?
2. Why and how, if they exist, did the 2 unallocated spaces on C:MBR1 get created as they did not show up on PW and on Disk Management.
3. Can they be safely removed?
4. Why would a Hard drive cabled to SATA 0 connector be assigned Disk 1, while a separate Hard drive to SATA 1 is assigned as Disk 0?
5. Why would a 200 MB System Area Partition which was originally on C:MBR1 get transferred to F:MBR2 without my knowledge or permission?
6. Does F:MBR2 require any System Reserve Area Partition, it will only be used for storage of a lot of files and backups and clones?
7. In the guide thread Partition or Volume - Extend it show ways to extend into areas to the left or right of the Main Partion, if I read it correctly.

8. Why do the birds go on singing, why does this heart of mine cry, I digress.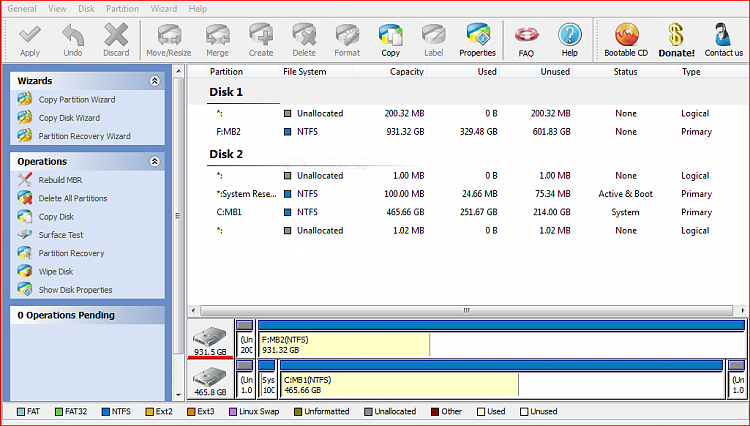 For Grins, this is my Disk Management this morning.
Thanks to all the extremely knowledgeable and generous people who are assisting me to knock one more issue down.
glennc