I have spend over a week tried to figure out why Windows Firewall connected fine to Xbox 360 on Windows 7 Ultimate x86 but not on the other Windows 7 Ultimate N x64 + Media Feature Pack. The 2nd one required me to shut off Windows Firewall. I hope what my solution will help anyone who received the same problems.
1. Check to see the
Media Center Extenders
predefined rule is already exist in your Windows Fire Wall by …
a. Startup
Windows Firewall with Advanced Security
in
Start
\
All Programs
\
Administrative Tools
\
i. If you don' find it then startup the
Windows Firewall
in
Control Panel
and then select the
Advanced Setting
at your left pane
ii. If you really cannot find it then you can always type
WF.msc
at your
Run
Window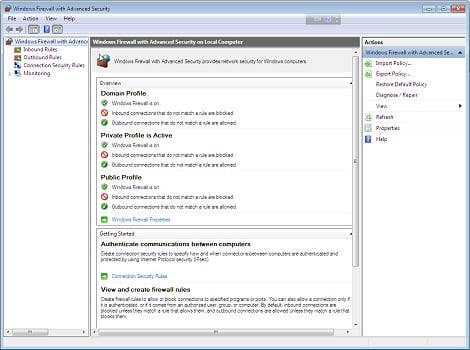 2. In the left pane click the Inbound Rules
3. Scroll down the rules if you find
Media Center Extenders
Rules group (see figure next) then your Firewall setting is alright, just follow the panels to add the rules in for the network you are in.
If you find them there and Windows Firewall still block your Xbox then you just have to figure out where it got disabled such as the "
Allow programs to communicate through Windows Firewall
" in Windows Firewall to see if
Media Center Extenders
is enabled for your home/private network.
4. If you don't fine them then that is the same problem as mine.
5. Click "
New Rules
" on your right
Actions
pane
6. Select
Predefined
as the Rule Type and scroll down the predefined rule groups. If you see the
Media Center Extenders
then your problem is easy just pick it follow the instructions for both inbound and outbound rules to deploy them.
7. If you don't find the predefined rule group then you have the identical problem as mine. Copy following lines to a text file and save it as "
Build Media Center Extenders predefined rule in your Windows Fire Wall.reg
"
Media Center Extender Predefine Ruls for Windows Firewall.reg
8. Make sure the file name ended as ".reg" not ".txt".
9. Now let's apply it. If you have never done much Windows Registry update before please be careful. Make sure to back it up (Export) first so that you can always restore it.
Ok, simply double click the saved ".reg" file to update the registry. Now it will introduce the new "
Media Center Extenders
" into the Windows Firewall predefined groups.
10. Go back to step 3 to add new Inbound rules as well as outbound rules for Xbox 360.
11. Go to the Windows Firewall to make sure it is allowed. (I also found "Windows Media Center" here so I enabled that too.
12. Reboot the system. I would think reboot is not necessary but it worked only after I reboot.
13. Good luck. Hope this write-ups helps somebody since it took a whole week for me to study Windows Firewall to get it working finally without shutting off my Windows Firewall.
14. This procedure worked for me but I am not sure whether it is complte. Hope some Windows Security Experts with Registry knowledge can help to verify and correct or fill any missings.