I've been using Microsoft Office Home and Student 2013, 15.0.4631.1004 for the last six months, with no real problems.
Specifically, while using Excel 2013; I can press F1 or click the ? icon, and use the online Help... Until now

I'm working on something in Excel, I try to access Help, and get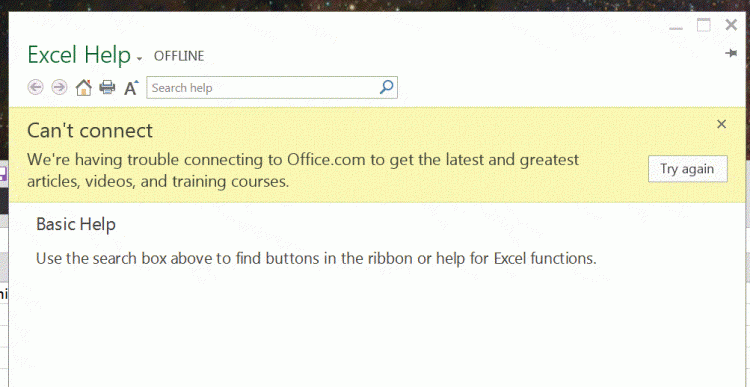 This condition then persists until I reboot the computer; the same/similar message appears for the other Office components.
Please note: other programs
do not
have any problem connecting to the Internet. I'm experiencing the problem even as I type this in IE. Office is the only one having trouble with connecting... I have some URLs in a spreadsheet, and they still work fine
My computer has a wired connection to my modem-router on a simple home network. I am using Microsoft Security Essentials, Malwarebytes and Microsoft Firewall. All Windows Updates have been installed. Turning off the firewall does not help.
A few weeks ago I had a problem with a malicious toolbar. Malwarbytes quarantined a number of files having to do with Linkey, and MySearchDial, and the problem seemed to be solved.
Any help with Help would be appreciated...