Hey folks, thanks for all the great info. It really helps!
WHS: it looks like the price on Amazon has gone down. It's now $260. But I did select the Price Notification for the product on Newegg. It looks like they are the more reputable seller after Amazon.
Lady F: Good point. Look at that: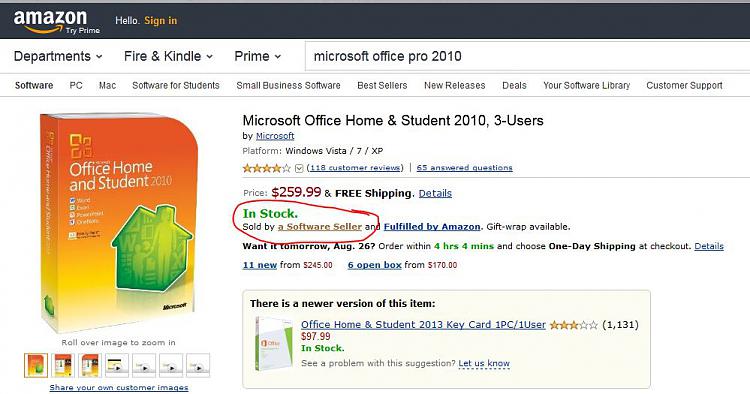 "A Software Seller" sounds like a reputable firm!
And 5 people say they are good!
How can 5 people be wrong?
fireberd & jimbo: I really need to try some alternative (free) solutions. Thanks for the tips. I'm already looking for Project alternatives, since my copy of Project 2007 is keyed to this one PC and all the others are running Project 98!
But for now it's a "the devil I know" situation, as I am not the only person that has to make the transition. My plan is to migrate in a parallel fashion - try a new replacement alongside Word and Excel until I am comfortable enough with it until I can teach others.
I have some very old spreadsheets (I started with Excel 1.0 - still have the box!) so backward compatibility is pretty important.
So keep those recommendations coming! Always good to have a future plan.
Layback: yes, I am kicking and screaming into the software future. Thing is, I work in locations where there is no internet access. So having web based programs is freakin' insane in my case. Unless I want to pay the phone company for the privilege of using my software!
ignatzsonic: That is a good price (by today's standards). Thanks! (Now watch me procrastinate until it is gone!
) Also thanks for confirmation on my research. It looks like 2010 is the last "real" software offered.
WHS: yeah, it looks like that is the online version, which is why you need a MS account - in order to access your OneDrive. It would be GREAT if I were wrong about that!
Again, thanks for all the feedback on this stuff. It helps simply because all of this is SO STUPID from a software seller's standpoint. Makes it hard to believe it is true.