I'm posting this possible solution in a few places for anyone still trying to search.
Our office is using Windows 7 Professional, Office 2007, and a mix of Outlook and Windows Live Mail.
With Outlook the "send" function works fine. With Windows Live Mail the "send" function will not automatically open a new email. I wanted to find a fix for WLM instead of having to re-install Outlook and setting it up. I saw the following in a forum somewhere (not quite sure where) that worked for us.
This requires adding entries to the registry and isn't that difficult even for you not-so-savvy users.
Click: Start menu > Accessories > Run
Type: regedit
Click: OK and Yes if Account Control pops up
In the left pane browse to:
HKEY_LOCAL_MACHINE > Software > Microsoft > Windows Messaging Subsystem
The right pane should contain/look like the following: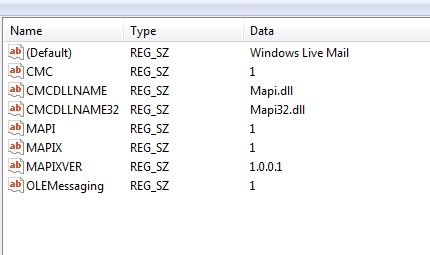 ***Caution, if there are different entries in your Windows Messaging Subsystem write them down, take a picture or print screen and paste into Paint...something just incase you need to change it back***
Right-click (Default) > Modify...
In the Value data box type: Windows Live Mail
Click: OK
To add the other items right-click in the empty space in the right pane: New > String Value
- Name the new item as stated above
- Once again right-click > Modify...
- Enter the corresponding value
- Rinse and Repeat for all items. Then exit registry.
This has worked for me on three separate systems. Now the "send" function in both Word and Excel opens a new message from WLM.
I also read in another forum (but didn't try it) where someone suggested chagning the registry key:
HKEY_LOCAL_MACHINE > Software > Clients > Mail
from (Default) REG_SZ (value not set)
to (Default) REG_SZ Windows Live Mail
Note: For users who wish to email as PDF or XPS (it's not available by default), simply search for: "office 2007 save as pdf" and download the small 1mb file and run. The link is currently:
Download: 2007 Microsoft Office Add-in: Microsoft Save as PDF or XPS - Microsoft Download Center - Download Details
Hope this helps. Goodluck!