Hope someone can help me or direct me how to proceed. I cannot install MS Project 2010.

System: Windows 7 x64, with MS Office Professional 2010 and MS Visio 2010
already successfully installed and running (even Outlook is running well)

Installation proceeds to about 75% and I get Error 1402: Setup cannot open Registry key HKEY_LOCAL_MACHINE\SOFTWARE\Microsoft\Windows\CurrentVersion\Installer\UserData\S-1-5-18\Components\8B1D70235E082D119BD50006794CED42\A752DC3423F4EDB4B9D3416E1EC03870. Make sure that you have permission etc. etc.

I have located the key using Registry Workshop. Initial message in "Change permissions" window is " No group or users have permission to access this object. However, the owner of this object can assign permissions."

Cannot assign permissions--cannot rename key--cannot delete key.

(Previously had tried to change permissions using Regedit--unsuccessful also)

Tried to run set-up.exe directly from the DVD "Run as Administrator"--get the same error message.

Also tried to install Project in Safe Mode--same error message. Tried to rename and delete the registry in safe mode--still not allowed.

What is this registry key and why can I not change or at least get rid of it? What do I need to do to get Project installed?

Thanks much,
KLE
Hello KLE !! Welcome to SF !!
Just Taking permission won't do the trick Take Ownership of that Registry key then try to install it again. I have see this issue lot of times in-fact I'm working on a Project regarding this Error.
Follow these steps
Although, the GUIDS that appear in the actual error message which are beneath the parent key, are random. Please use the following steps to work around this issue:
1. Click Start under search type
regedit
.
2. Click Edit and select Find. The Find dialog box appears.
3. In the Find What field, type the
GUID
that was referenced in the error message and click Find Next.
Once located from the search, give the registry key adequate permissions:
1. Right-click on the key and select Properties. Click on the Security tab.
2. Click the Advanced button, then select the Owner tab.
3. Under the Owner tab, highlight the account your are currently signed into Windows as,
check the "
Replace owner on subcontainers and objects
" box, click Apply, then click OK.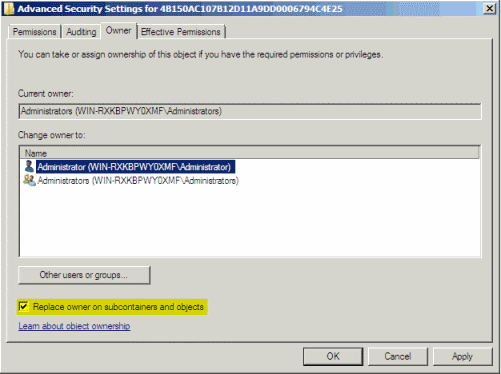 4. Close the Properties screen, then reopen it (see Step a).
5. Click the Security tab, highlight User account you selected to be the Owner in Step d and click the Advanced button and then Edit on the Permissions tab.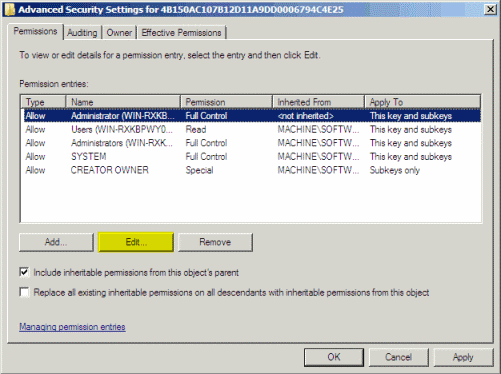 6. Check all boxes under the Allow column. Click Apply, then click OK.
7. Close out of the registry and attempt the installation again.


Note: If you recieve the same error, but referencing another GUID after giving permission to the initial GUID that prompted the error, repeat the above section to search the registry and give the appropriate permission.
Hope this helps,
Captain