2 programs
that will accomplish what you seek,
MKVMerge
(from the mkvtoolnix package)
and
http://www.bunkus.org/videotools/mkv...icode-5.6.0.7z
Audacity
(the software that will let you remix/downsample your audio to other formats)
Audacity: Free Audio Editor and Recorder
Firstly, you need to rip/demux the audio out of the video using MKVMerge GUI:-
Unzip the downloaded package and run
mmg.exe
(MKVMerge GUI)
Drag the mkv file into the GUI (go to the folder where you downloaded the tools for it to be read, untick the video track and leave the audio track ticked, and in the output filename, just type in whatever you want with the audio extension at the end.
In the example i've shown you, i'm ripping out the
5.1 ac3 track
of this Sons of Anarchy episode I got from Itunes.
Notice the file extension at the end is
ac3
, if the track's source is
MP3
, label it as
.mp3
,
AAC
, label it as
.aac
and so on and so forth.
Click
start muxing
, and after a short while your newly splitted audio track will be ready to be used for next step...
Secondly you need to use Audacity to convert the audio into whatever format you want:
Install then run Audacity.
Drag
the audio file into Audacity's main window.
Depending on the length of the track it might take some time to import it.
Then
export the file
into the format you want to convert it to. Eg
save to mp3 if you want mp3
and so on...
Don't forget to install these
lame and ffmpeg plugins
for Audacity to allow
Audacity to recognise more audio tracks
:-
Audacity plugins.zip
For this example, i'm
downmixing the ac3 file i got from mkvmerge into an mp3 file
..
When it's done, click on
File --> export
then choose the format you want to export it to as in this diagram (change the
save as type to export to that format
); click on
options
for further choices for the particular file type.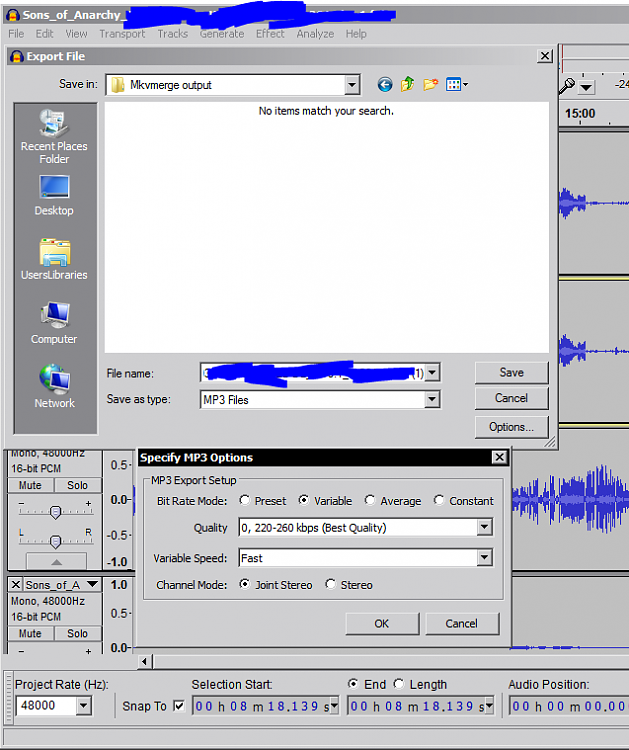 Wait till it's done (might take a while depending on the size).
When it's finished, it's time for the last step!
Lastly, merge/mux the audio track back into the video you originally split the audio from
Open up MKVMerge (mmg.exe) again, drag the
original video
in, drag your
newly created audio file from Audacity
, untick the
audio file that came with the video
and tick the audio track
that you have just created from Audacity
, and start muxing..
The final product is your intended video. It may seem complicated to do, but the total time spent is much much lower than if you had to transcode the video and audio in Handbrake!
That's all there is to it!
Hope that helps!