More accurate? Your post was most confusing I have seen, with screenshots of no value showing absolutely nothing worth to know, except the fact that you do not really know what and how you should search.
To start, a short command line tip about
FIND
command which you seem to have tried: it is
not
used to search files, it is used to search a (text)string
IN
files. Following example for instance searches string
Some text
in all
.txt
files in target folder:
Code:
find "Some text" *.txt
This one searches string
Create
in file
Backup.vbs
(a Visual Basic Script):
Code:
find "Create" Backup.vbs
If found, the full text row containing the searched string will be shown: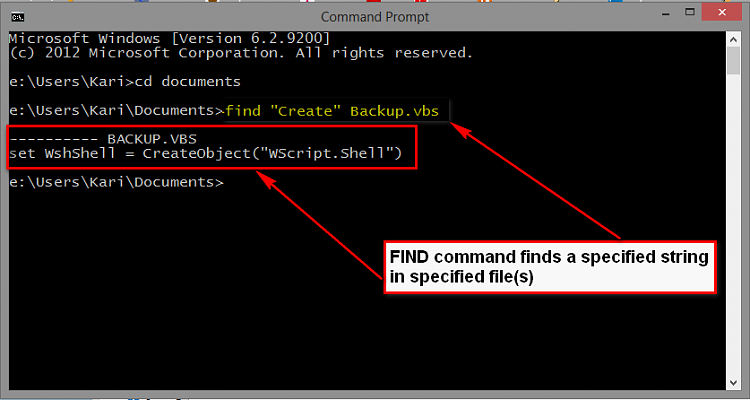 Using
Command Prompt
, the search is done with
DIR
command. It only searches the current folder, with switch
/s
current folder and all its subfolders.
An example:
Search all
AVI
files in current folder and its all subfolders:
When you remember that
cd\
command always takes you to the root of the current drive, you can search your whole computer with a few commands. Following command sequence (commands in that order you would give them on Command Prompt) would first search
.avi
files on C:, then on D: and finally on E:, always starting from the drive root:
Code:
C:
cd\
dir *.avi /s

Here would appear a list of found *.avi files on C:

D:
cd\
dir *.avi /s

Here would appear a list of found *.avi files on D:

E:
cd\
dir *.avi /s

Here would appear a list of found *.avi files on E:
The screenshot below shows search of
.avi
files on my User Profile drive E: and its subfolders, and then shows all folders (in this example just one) containing
.avi
files listing the found files:
You screenshots show no searching and explain absolutely nothing. Did you do what I asked you to do in my previous post, search
.avi
files on
Windows Explorer
opened to
Computer
view. See the screenshot below, it's from Windows 8 but search is exactly the same in Windows 7: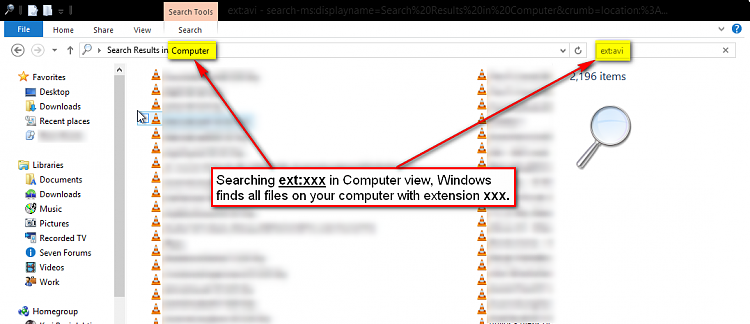 Kari