Up to now, I've been purely an XP user, but I recently inherited a computer running Win7. Since it's a more powerful machine than my existing file server, I figured I'd swap it in. But I'm unable to create/edit files on it from any of the WinXP machines in the house. I've searched all over the net and tried many many things.
I'd like to make the entire C: drive accessible to other machines on my LAN, but I'll be happy to get access to specify directories on it. The one I've been working with is C:\http
It took a lot of work, but I can now at least see that drive from my XP machine. However, when I try to copy anything into it, I get:
Cannot copy xxx: Access is denied.
Make sure the disk is not full or write protected and that the file is not currently in use.
If I try to simply create a new text document in that directory, I get:
Unable to create the file 'New Text Document.txt'
Access is denied.
Under Advanced sharing settings, I have the following configured:
Network discovery: ON
File and printer sharing: ON
Public folder sharing: ON
Password protected sharing: OFF
Homegroup connections: Use user accounts and passwords...
I have the following security settings for that http directory: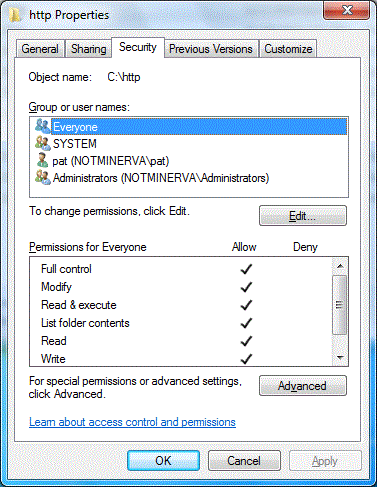 Can anyone help? I'm totally lost. Thanks.