Forgive me if this repeats steps already taken, but it's a long thread, and life is short.
Things you may wish to try, Bill, are removing some of the Microsoft obfuscation in the Windows 7 networking, and enabling some of the stuff in XP that was not "fitted as standard".
Windows 7.
Open the Network and sharing center and select your internet connection, and then properties to show all the clients and protocols and networking services: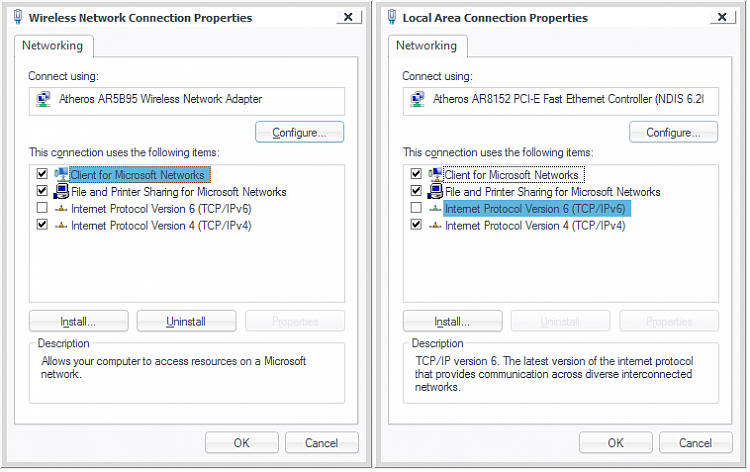 Note only 3 items are checked - that's all you need for TCP/IP connectivity - IPv6 is still not fully implemented yet, and just runs as a parallel drain on resources for most networking and internet requirements. Not even in Windows 7, despite the protestations of the Win 7 troubleshooters! Homegroups and Workgroups run without the excess baggage of IPv6 and the associated layers.
It's up to you if you want to try unchecking the probably unneeded protocols, but I have no problems without them.
You will need some services running (please let me know of any errors or omissions here):
Code:
 Computer Browser
   DHCP Client
   DNS Client
   Extensible Authentication Protocol
   Function Discovery Provider Host
   Function Discovery Resource Publication
   Group Policy Client
   HomeGroup Listener
   HomeGroup Provider
   IP Helper
   IPsec Policy Agent
   Microsoft Network Inspection
   Net.Pipe Listener Adapter
   Net.Tcp Listener Adapter
   Net.Tcp Port Sharing Service
   Network Connections
   Network List Service
   Network Location Awareness
   Network Store Interface Service
   Peer Name Resolution Protocol
   Peer Networking Grouping
   Peer Networking Identity Manager
   Plug and Play
   Print Spooler
   Security Accounts Manager
   Security Center
   Server
   Simple TCP/IP Services
   SSDP Discovery
   TCP/IP NetBIOS Helper
    UPnP Device Host
   User Profile Service
   Windows Firewall 
   WLAN AutoConfig
   Workstation
The services can be started in the Computer Management console, or in task manager. If not available, the Windows components may need to be added in Control Panel.
In XP SP3/2 Peer to peer networking is available, but the components are not automatically installed, and the additional networking components need to be installed, likewise from the XP control Panel, Add Windows Components. The Install disk for SP3 will be needed (I think that the I386 folder in XPMode has these files available, if the XP install disk is not at hand. The folder can be extracted from the XPMode installable download using the 7-zip file manager freeware.)
Beyond this, problems may occur in the WINS resolution Browse Master competition, but I'll post on that later.