I ran into a big problem 2 days ago when I had issues with windows updates on my W7 OS. I was getting some updates out of the way after updating my graphics card drivers for the beta test weekend for SW:TOR. I let it all run through as normal, however, during step 3 of 3 the computer restarted and ran windows repair. After it was all settled the updates went from 4 to 70 someting. Thinking this odd, since I have had this system rock solid now for over 8 months I went ahead and intalled all the updates.
The same hitch occured at step 3 of 3 and windows repair rolled back more updates to over 90 upon startup. After the second rollback repair event I had no ethernet connectivity.
When I say no connectivity I mean that the ethernet port does not actually send packets along the ethernet cable to be recieved by the router. It is as if the process was virtualized. Naturally I accepted the curious challenge, set aside game testing and dove in. Ran throught the normal gambit of escilated fixes:
* Disable/Enable the adapter
* Cycled through drivers (uninstall/windos install)
* Connected directly to router/web, and reinstalled router firmware to factory conditions
* IP config wrangeling of /flushdns /registerdns /release /renew stopped and started services across the board one by one attempting systematic elimination
* Flashed bios for MOBO and fully reinstalled factory direct drivers for the chipset and wut not
* Disabled and completly removed windows firewall and modified the security profile to be open as possible
At this stage I was at nuke and pave, fully formatted the drive, reinstalled W7 and the problem persisted with the ethernet connection only. Nuked and installed my spare copy of XP pro and the same issue persisted. At this point I strongly felt that there was some type of virus or board hardware modification, pulled the cmos battery and power cycled the board and reinstalled each component from scratch... many hours later I arrived here with the same persistent problem.
Observations: I can connect to the internet with a usb wireless NIC, this is stable until I cycle it from public network to home. At this point, in home network status the wireless NIC sends and does not recieve packets and has no internet acces. I can return the state back to the public and restore connectivity. However, when I try to transfer over the Ethernet connection to public it does not restore connectivity.
I do not have bonjure or any apple crap on my workstations so the other connectivity issues seem moot with regards to this ghost ethernet problem.
It is as if the state is in sleep mode permanently or some such nonsense as it can send data packets yet they never leave the onboard NIC. (yes I have tried many different cables that are LKG).
The Ethernet port state changes are dected with cable in/out, lights function normally and drivers are updated.
Pix: current ethernet state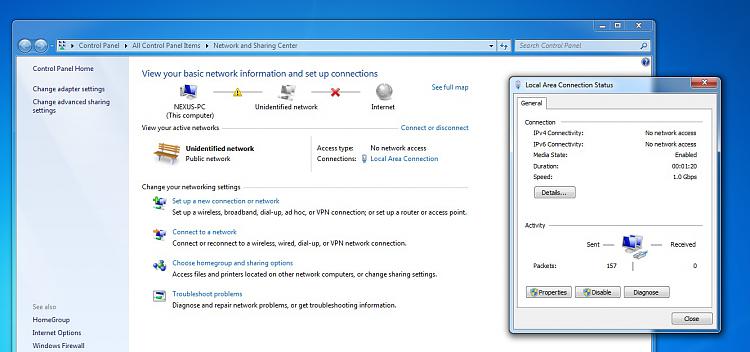 MiniToolBox Report: report.txt
Result.txt