Hi guys,
I was wondering if anyone can help me to network my 2 computers so I can share files between them. I am just trying to create a simple network with a etheret cable. The desktop is a novatech barebones that I have had for a long time and the other is a new Acer 5750 laptop. They are both running the same version of Windows 7 ultimte edition. On the desktop 'network and sharing' page I see this...
When I d-click on the 'unidentified network' icon it 'sees' the laptop but when i d-click on that it says...
"Laptop is not accessible You might not have permission to use this network resource. Contact the admiistraotr of this server to find out if you have access permissions.
The Server service is not started."
On the laptops 'network and sharing' page i see this...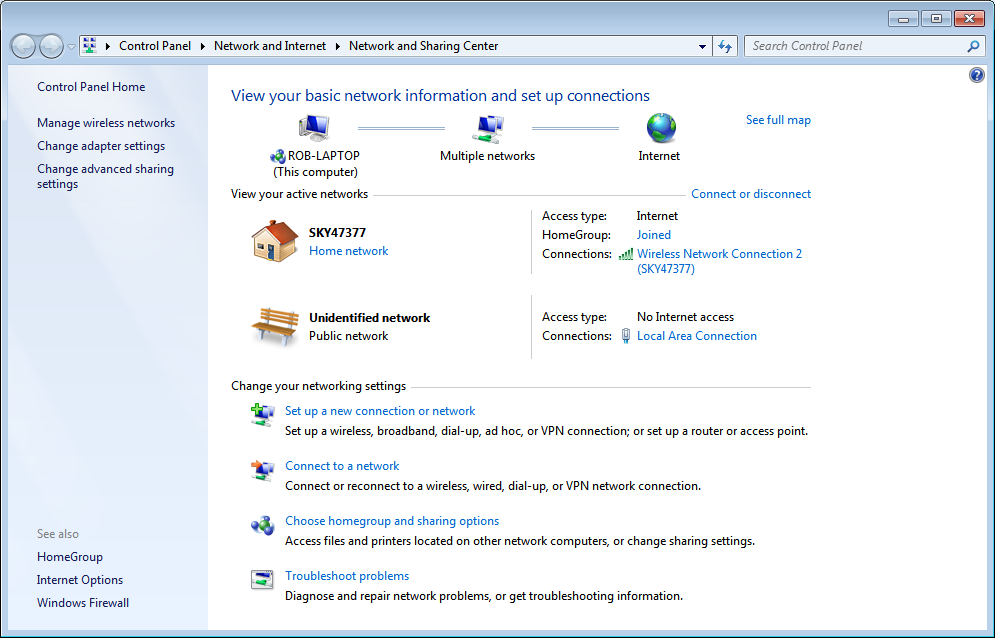 and when I d-click on the multiple networks icon at the top it just shows the laptop and a laptop media area. No desktop. If I d-click on the park bench icon it tells me to name the network and choose an icon but then wont let me make any changes.
Can anybody tell me what I need to do to get these to computers to communicate properly? I'm quite happy to start again from scratch, creating a new network as obviously what I've done so far is obviously not correct as its not working properly. Please feel free to ask any questions as I'll happily give any information you need in order to help me get this sorted. I am a noob to networking though so the more straight-forward and simple you can make this the better for me. Step-by-step would be perfect but anything that helps me with this will be very much appreciated. Thanks.