HI
MY "D" drive crashed on me and had to reload all the programs back on to the PC and since it was slowing down I decided to do a clean install of Win 7 x64 Ultimate.
Almost back to "working normal" , the problem is it can't find the Printer Driver across the network? The wizard finds the printer ok and the printer is installed on my wife's PC, installed correctly, working and printing from her PC. In Control Panel, I've checked off both PC's to match sharing across the homegroup.
I found a driver for the printer, HP LaserJet 4 Plus, yes it's an old dinosaur but prints like crazy still after all these years, unziped the contents into a folder on the desktop and direct it to look in there but didn't work (can't install it on my PC - serial cable but the wife's PC still has one, old PC-DL running @ 2.6ghz old server BD) use to have a USB to Serial converter worked most of the time and didn't the rest of it.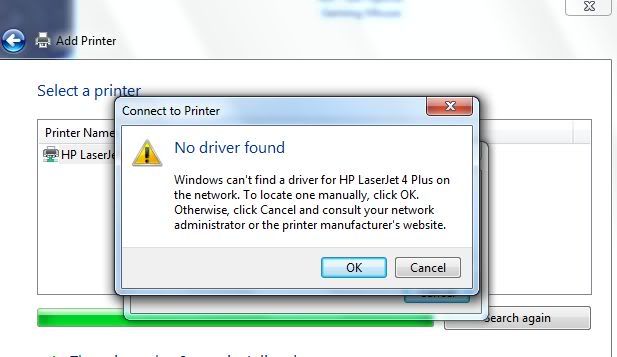 Any ideas and suggestions are most welcomed.


TIA