Assuming the domain and users are set up accordingly. To deploy software via group policy you will first need to create a security user group within
Active Directory Users and Computers
and name it something similar to the application you wish to deploy. Once done, assign assign the computers that you wish to have access to that application to the group.
You will need to ensure that the object type includes '
Computers
' to be able to add computers as members to the group
Next thing is to open
Group Policy Management
and create a new policy under your domain that will be used just for the deployment of a particular piece of software.
Once done right click and edit the policy, navigate to
Computer Configuration\Policies\Software Settings\Software Installation
. Once there, right click and then click on New>Package. From here then click on the
.msi
package that you wish to deploy to machines.
A window should pop up, click on
Assigned
to force the deployment to domain computers.
Now just change the security filter to apply only to the group you created in active directory (To apply to computers listed)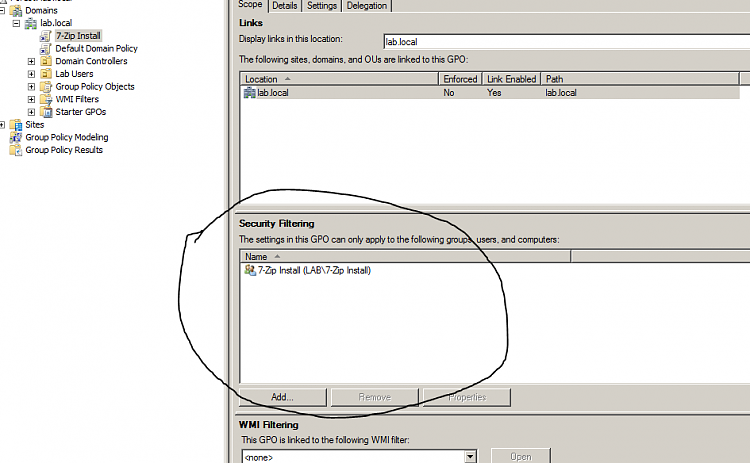 Over time the application should be deployed to the machines that are joined to the group made in active directory.
____________________________________________________________
The next job for user files is to create a share that has the permissions shown in the screenshot below so that users can have full control of their files.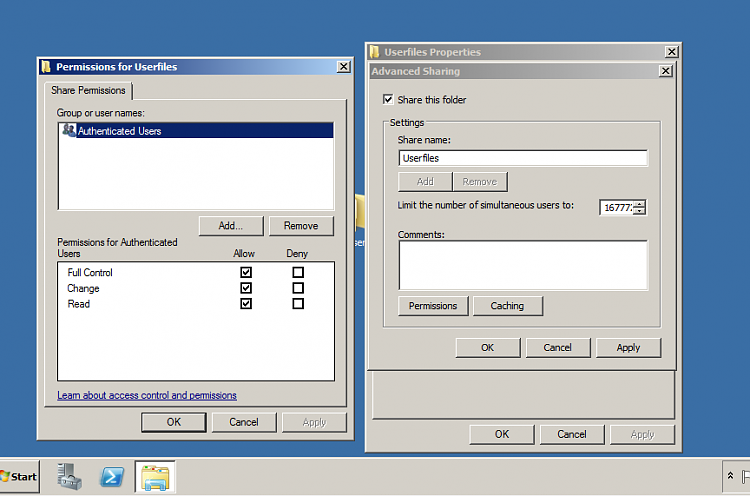 Then go to group policy and create a new policy called folder redirection.
Edit it and navigate to
User Configuration\Policies\Windows Settings\Folder Redirection
Once there simply right click on the folder you wish to move to a remote location and click on properties
Then just change the setting to
Basic
and change the root path to the UNC SHARE!!! Make sure it is the same share as the one you created. The image below should help to clarify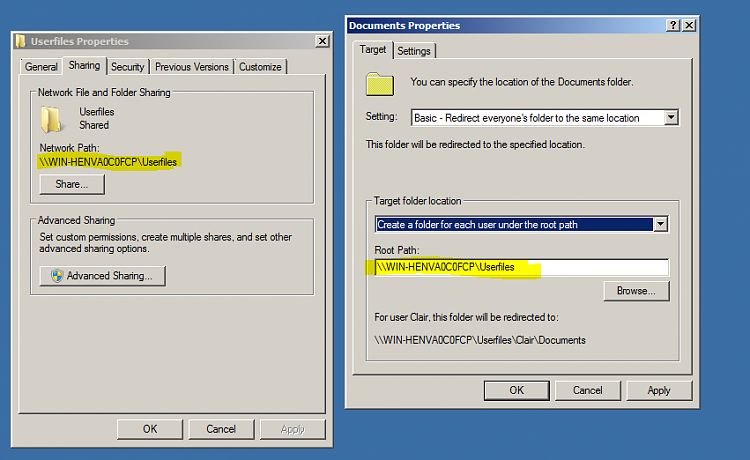 Rinse and repeat on other user folders you wish to have stored on the server.
Now create a new group policy object and name it something like 'Map Drive'. Click edit and navigate to the following:
User Configuration\Preferences\Windows Settings\Drive Maps
Once located, just right click and select '
New>Mapped Drive
'
From here change the action to Create and the location to the same path as your share but add on '
\%USERNAME%
' at the end of it.
An example of mine is below:
The last '%' was cut off since it went over at the end.
Apply and OK and then you should have a mapped drive and redirected folders to that share on the server for all users in the domain.
Hope This Helps,
Josh :)