1) Remote desktop access issue.
2) ISP is Zen Internet
3) FTTC connection
4) Netgear WNR3500L with FW V1.0.2.50_31.1.25NA
5) Windows Live Essentails from home network PC and Norton from Works PC
Having a trouble accessing my MAC runing OSX Mavericks from windows remote desktop app on Windows 7 machine.
Both Mac and PC are on the same home network.
Used to work with out issue but for some reason now, even on my internal home network I'm not able to access the Mac from my Win 7 PC. Used to be able to access it from external also.
I have a dyndns account that is currently working and configured.
I am able to use VNC fine, as well as Google Chrome remote desktop app, and logmein. All internally and externally.
The router is set to a publice static IP assigned by my ISP.
I have my target machine configured on an internal static IP on my network.
I have made sure that port 3389 is forwarded via my router to the target machine static IP.
When I try accessing via Windows remote desktop I get a message that reads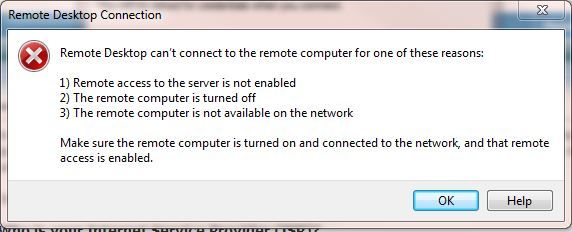 Not sure what else could be preventing me from using this as it was before now. The reason I'm still still trying is that the Windows remote desktop worked far better than any other remote desktop solution.
I get crazy screen refresh lag using VNC to the point it's almost not worth using it. Even when used on my internal network.
Any help appreciated.