Good afternoon Sevenforums community!
I should preface my dilemma by stating that I am one of those horrible individuals that register on a forum solely for Tech support, never to return again (unless a thread title that indicates I may actually be able to assist with my limited knowledge springs into view right away).
What I am attempting to do:
Setting up a wifi network to stream files to a Raspberry Pi hooked up to a television set - Thus, I need the hard drive connected to my wifi access point. Why not just stream it from the PC via the network?
If I were to leave my computer on while watching TV, the sound of the plane-engine like fans
FROM HELL
keeping my system cool, would drown out even the most bass-heavy soundtracks of Hans Zimmer. HOWEVER, when I am on the computer, I'd still like to interact with the files on the HDD - so I have to map a network drive obv.
So far, so good!
On to the problem at hand:
I am connecting a Huawei B890 to an external hard drive. When I access the router configuration interface, by typing the IP adress 192.168.1.1 into my browser, I can register a User and grant him reading and writing permissions to said hard drive.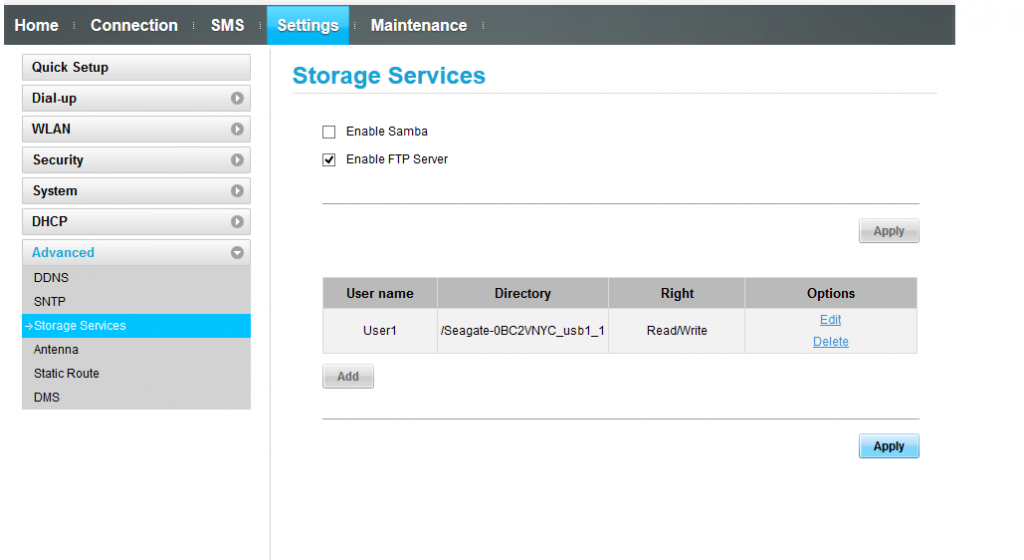 I then attempt to map the HDD to a network drive, using the windows interface. The screenshots stem from a computer running windows 8 - the same problem is present on another machine running windows 7 64x though. If I use the "browse" function - I simply can't find the router to begin with. It should be noted that it showed up at one point, however when I attempted to access it, I was asked for credentials and neither the admin password (for the router mind you) nor the password I set for "User1" was accepted. Internet works fine, I am connected via a perfectly functional ethernet cable.

(ATP IGD is the router)


When I try manually connecting it (ie just putting in the path / IP Adress), windows returns a message saying it was unable to find the path/machine in question (the usual 0x80070032 network path not found error)
Any input? Been wrecking my brain and google for hours, abusing the CMD to the point where it has incurred irrepairable trauma, which is why I actually have the audacity to come here and bother all you wonderful people. Is it homegroup related? I ruled that one out on principle but perhaps I am wrong? I can ping 192.168.1.1 just fine obv
PS: I hope this is the correct subforum - I reckoned hardware was appropriate because it seemed like a problem relating to the huawei router/gateway - and I foolishly posted there, immediately editing the topic to ask for removal. If I am wrong to post this here, I'd appreciate you moving it to the correct place. Thanks in advance.