Is your computer wired directly to the router?
Sharing printers and file in Windows 7 HomeGroup involves 3 steps:
1. Setting up HomeGroup
2. Connecting to HomeGroup
3. Share Printer
1~ Setting Up Homegroup
1- To setup you HomeGroup in Windows 7, Go to Start menu and type homegroup in Windows 7 Search bar.
2- Next click create homegroup on the screen.
3- On the next screen select what you would like to share. **Make sure you select printer.
4. Next you will receive a password. Make notation of this b/c it will be required to add machines to you homegroup.
5. Finally click the finish button. Here you can make addition changes at this time is you desire.
2~ Connecting to Homegroup
1. To setup you HomeGroup in Windows 7, On your next computer, Go to Start menu and type homegroup in Windows 7 Search bar.
2. You're now prompt to enter the password from step one. Insert the password into the space provided.
3. You have now joined the homegroup
3~ Add printing device
1. Choose Start→Devices and Printers.
You see the Device Stage list. You may or may not have any printers indicated at this point.
2. At the top, click the Add a Printer button.
Windows 7 asks whether you want to add a local printer or a network, wireless, or Bluetooth printer. You wantt to add a network printer.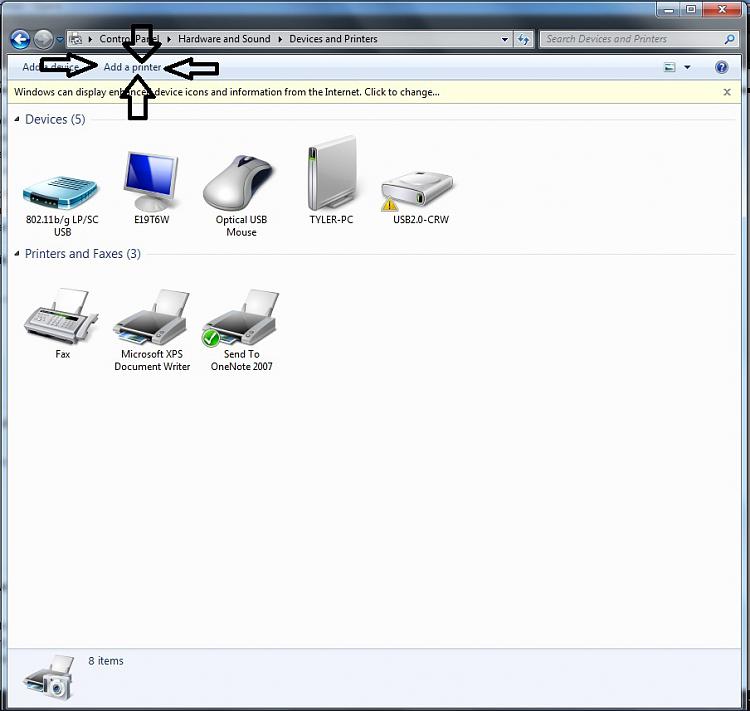 3. Click the Add a Network, Wireless, or Bluetooth Printer paragraph.
Windows starts searching for printers throughout your entire network. Usually, it finds the printer you want. Sometimes it doesn't. The wizard should show you a list of found printers.
4. If you see your printer in the list, go to the next step. If Windows isn't finding it, click the Stop button and then click The Printer That I Want Isn't Listed. Click the Browse button and then locate the printer on your network.
If the wizard doesn't display the printer you want to install, you can install it by typing its name into the Printer text box under the Select a Shared Printer by Name option. The name should be in the form \\host\printer
5. Select the printer, click the OK button, and click the Next button.
6. Click Install Driver. Then click Next.
7. Select the default printer and click Finish.
Ok now reboot all your systems. They should have detected the printer and allow you to print. If they didn't don't panic follow step "3~ Add printing device" on each computer connected to your homegroup. Note you may need to install the drivers you previously downloaded to your laptops.