Please forgive my nooniness, its late just wanted to ask a question.
I have an old Cisco router WRT54g and 2 laptops. One is mine, the other is a roomates.
I do not wish to share any info with any other computer. I am running Comodo CIS freebee
T500 Lenovo thinkpad 6.1.7600 win 7 Ultimate 4gig ram 20892MU Native 64 bit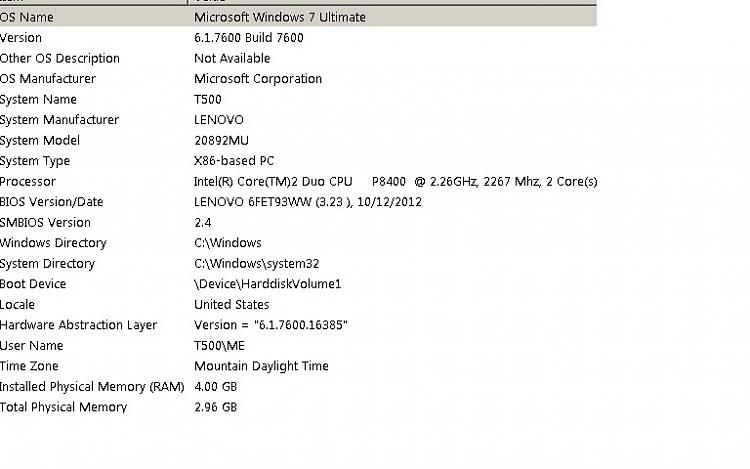 l Lans sort of like back in the win 3.11 days. I keep getting a nag , where are you at home etc. drives me crazy.what is point of a homegroup, is it the OS or the firewall nagging me to join?
Second question
I bought this PC of Kijiji..came from high security company with the weirdest Bios. Has computrace, fingergerprint all all sorts of crap. Originally installed with Vista and upraded to win 7 Pro.
Then decided to take my chances and run killdisk and install a fresh copy of Win 7 Ultimate 32 bit, instead of the native 64 bit which I do not have the os for. I supoose I could reinstall the original sytem image, extract the Win7 Pro (UPDATE) key and DL Win7 from MS, since the key is legit, but encrypted..just about every thing works, a few disabled things in DM, not sure what they are. Would i be able extract the original win7 update key, could I DL a copy of win7 pro from MS and use the exttracted update key ?
Everything I need works fine EXCEPT only one processor core is active, how the heck do I flash the BIOS?
Is it worth the risk? Do not want to brick My MB...just want to get rid of all the computrace security stuff in my BIOS and have both cores working. Centrino 2 Intel vPro. It is a native 64 bit, decided on 32 bit OS Win 7 Ultimate, less driver hassless...thoughts?
Thanks guys and gals
MercurialGuy