Okay, can we try to put a bit of order here, and eliminate a few hypotheses one by one ?
1. Router troubles
I have now reset the router, and upgraded the firmware. Doesn't that eliminate the "hacked router" hypothesis ? I mean, even if it had been hacked, it's now un-hacked, right ?
"Router going South" : what does that mean ? A router is a miniature computer with no moving parts, right ? So either there's a software problem with it (and it has been corrected with the step above, right ?), either it's not working at all, correct ? How can mere usage of the router degrade the quality of the DSL connection over time ? Bear in mind this is a spanking new device (2 years old, that's spanking new in my book), it's ventilated, and it gives off almost no heat at all.
Can we rule out the router ?
2. Malware search
Herd Protect turned up a few alleged PUPs in stored software I never use. To give you a hint, one of them was the https extension for Pale Moon. Most probably, all of these were false positives. I nevertheless deleted the bunch.
One file remained "to be analysed" in the cloud, but Herd Protect never got to "analyse" it, despite multiple runs.
I made a Microsoft Security Essentials full scan a few days ago. It took 20 hours, and found nothing.
ADW Cleaner by Malwarebytes turned up some unsignificant things, possibly false positives as well, deleted as well anyway.
Can we now eliminate the malware hypothesis ?
3. DNS troubles
My beloved Windows Network Diagnostics utility keeps throwing the stupid
The DNS Server is not Responding
line, when I summon it to restore the Internet connection that Verified by Visa has just shut off ; but isn't that just another way of saying : it does not work, and it might be a DNS problem, or a million other things ? Also, the split second it throws that message is precisely the time when it restores the connection, so that "error message" is not really reliable, right ?
Can we rule out DNS issues ?
Before that problem arose, I had planned to change my DNS server. Might that help ?
4. Quality of the DSL phone line
Here are some more data :
Smokeping from California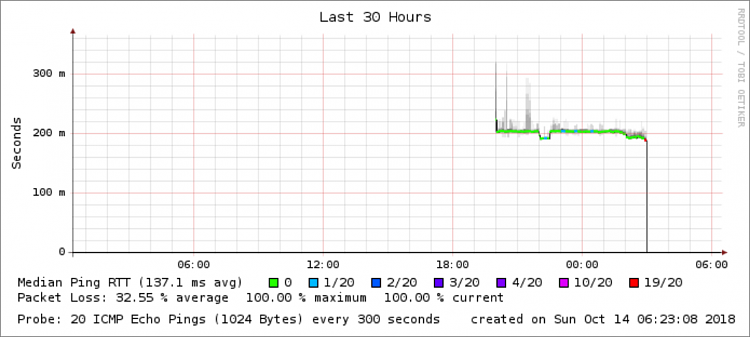 Smokeping from Kansas (or Virginia -- says both)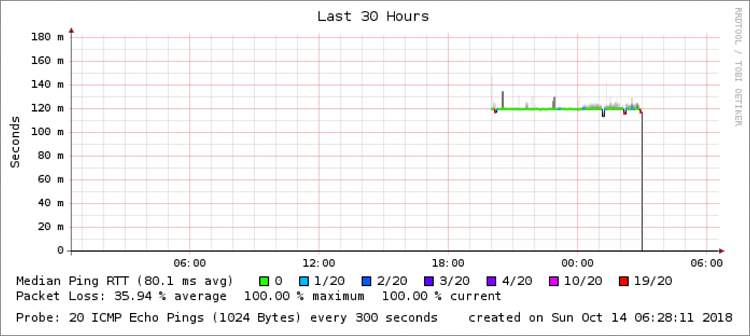 I don't have the slightest idea what the above means, but we know my phone line is not very good.
The media in my country just reported that all the private ISPs complained about the state operator neglecting the maintenance of the copper phone network on which it has a monopoly. Now that might explain the fall in figures I wrote about.
However, it remains to be told how 6 miserly ASCII characters, pertaining to a 2FA code, can overwhelm a so-so DSL connection to the point of shutting it off, while
huuuge
websites can be browsed with no particular sluggishness.
What lies behind that tiny click on the OK button of Verified by Visa, which is
sooo
difficult for the Internet connection to manage ?
5. Winsock troubles and associated Windows malarkey
I went through
the Microsoft Support link
you gave me. This Samhrutha G guy there points the OP to
another thread
, which has a manual diagnostic for Winsock integrity, and remedial actions.
The remedial action is the famed
netsh winsock reset
command, which I have already applied countless times.
I nevertheless went through the diagnostic steps. The diagnostic failed (if the advice is correct !), but the remedial action did nothing, just as it did nothing before (nothing durable, anyway).
The alleged Winsock corruption diagnostic comes from a list of items under
System Information / Components / Network / Protocol
being incomplete. The list should allegedly have 10 items or more, but I have only 8. This is bad, according to the Microsoft Support article (which does
not
pertain to Windows 7).
However, another poster (an MVP, no less) says his Windows 7 64-bit has the same 8-item list as me, and everything is normal (I'm on 64-bit, too). Added to the fact this is a piece of advice referring to another piece of advice, given by someone else, and that it's in fact meant for Vista, not 7, but it's just supposed to work as well for 7, according to the guy Samhrutha G who did not give the advice in the first place, I'm inclined to take the whole thing with a huge dollop of salt.
My Windows install is not in a nice shape, that's for sure. It misbehaves in all sorts of ways (slowness, etc), but then that's the nature of a not-just-made Windows install, isn't it ?
Any ideas ?