I've taken many snapshots recently of my connection over the weekend, but this one here was different and takes the cake so far, as it will have me digging for more answers. Hence the name

I blew this up so you can see a closer look... pay attention to the deep drops, both up and down.... the dotted lines represent 10secs. Now one would expect the drops to be on the "same line", at the same time. That wold lead me in one direction more likely, but this isnt the case. Tis why i said it doesnt matter if just up, down, or both, that make a difference. Which if both up and down dropped at same time, well then thats more explainable, atleast in my practical mind. but, not the case.
and of course if you remember me stating i have a 10mb connection, you can see that i am not using it all by any means... the upload is around 85% utilized
now look here at the spikes above the 85% upload threshold and complimentary dips with DL. I hold it at 85% because anything more degrades the overall throughput wan side.
now this just happened 30 mins after i posted the 2nd shot. I didnt change anything i was doing, was same processes... actually coincidentally most likely happened when i went to submit a post to a different thread.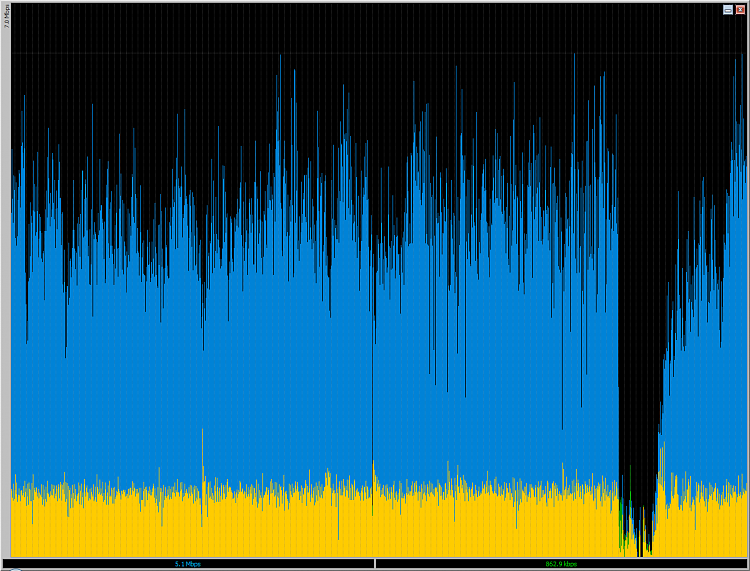 also here is a snapshot around the same time of the router's info page. With an uptime of 6.5 days currently. I noticed some quirkyness, particularly the errors and also the usage of IP sessions is rarely pretty high, but not max limit, and is explainable with the given tests. So i am not suprised at that, just taking note of.