It is due to the number of chips they put on the SSD, need 10 chips to get 10 channels.
True, they could put smaller chips and get the 10 channels, but it depends on the chip size that are available.
Intel is not using their own controller.
Intel Officially Announces 510 Series 6Gbps SSDs
OCZ uses ATTO, the most compressible data test available, which gives them the highest sequential numbers possible. On their forum they have admitted that they do everything possible to the SSD and system to get those numbers, they also admit that the experienced enthusiest will not be able to match those numbers.
There are several threads on their forum where this has been hotly discussed.
IMHO not the best marketing scheme, it leaves the customer with a not so good feeling when they run their own benchmarks.
Giving OCZ some credit for posting the Vertex2 AS SSD, toughest benchmark for SSDs - non compressible data, benchmarks on their website: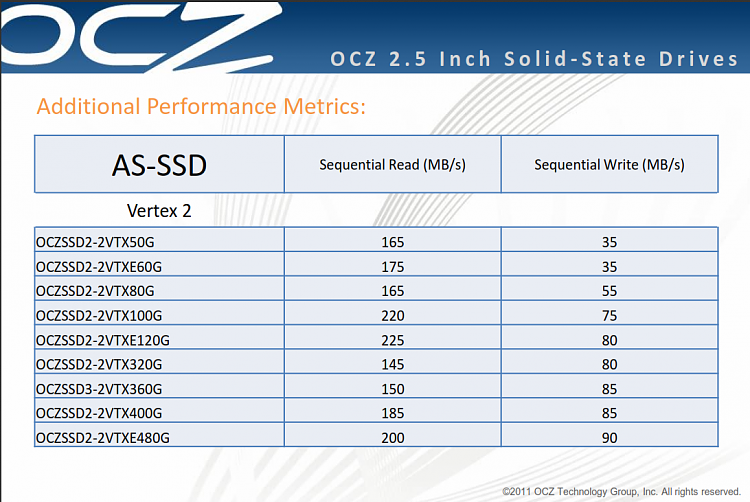 This shows the non-compressible sequential rates for the Vertex2.
I'm not a fanboi at all but, in comparision Intel published rates can be exceeded if you have a good setup.
Have to give them credit for credible numbers.
In my research I would have to give OCZ G2 the edge on best actual numbers and performance.
Intel has better access times, which is beneficial.
At the end of the day the difference in speed between the two are likely not noticeable except in benchmarks.
I'm waiting for the benchmark comparisons of the new G3 SSDs.
Remember, the Intel 510 is 34nm therefore still a G2 SSD.
Here are the SATA2 vs SATA3 performance numbers.
OCZ Vertex 3 - G3 (25nm)
Crucial C400 - G3 (25nm)
Intel 510 - G2(34nm)
Seems to be some issues with the 25nm nand, useage cycles are 3,000 compared to 34nm nand at 5,000 and 50nm nand at 10,000.
They claim to have a way to mitigate this by having the controller write less.
Think I'll wait and see the results before I jump in.