The screenshots below indicate that Win7 has more robust capabilities in memory management than either XP or Vista.
In the first with CHKDSK running, max memory usage peaked at 7.4GB. At which point several other apps were started - Photoshop Elements, Microsoft Publisher, MalawareBytes Anti-Malaware (ran a quick scan), Picasa and Sound Forge 9 (see Taskbar), etc.
As expected all "Standby" memory quickly disappeared and hard page faults started. Though the pictures do not show it, dynamic Working Set size adjustments were made to CHKDSK and the other processes (Task manager - View Columns option). The system response time slowed of course, but it still responded.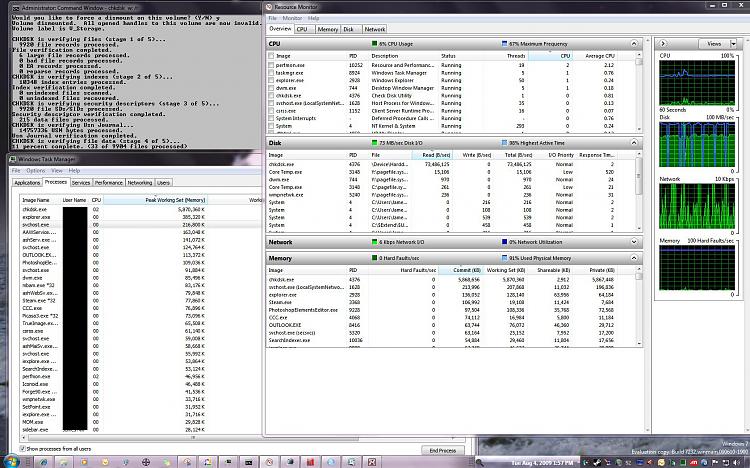 The second screenshot shows the Resource Monitor screens shortly after CHKDSK completion.
As can be seen CHKDSK relenquished its Working Set allocation when it was no longer needed. System performance returned to normal. There were no BSOD or Event Log messages.
As a long time VMS Cluster Admin I can tell you that one of the maintenance functions never performed during production hours, except when absolutely necessary, is the "Analyze/Disk" utility (the VMS "CHKDSK"). The nature of the activity requires expediency and priority to resolve a problem or perform maintenance. For this reason it is allocated resources as appropriate to the detriment of all other system processes
If the WIN7 CHKDSK is buffering the disk to memory for performance considerations there is nothing to fix. MS could cap the MAX Working Set size to some % of available memory but why bother? CHKDSK is a maintenace function.
What....? You want to run CHKDSK while playing Half-Life 2? Well you can. You will just play it more slowly.
Reminds me of the guy who goes to the Doctor with a rock in his hand. Every few seconds he hits himself in the face with the rock and says, "Doc every time I do this it hurts!". The Doctor says "Don't do that anymore. That will be $25 please."
If it is not a bug, MS may be the Doctor. Just don't be surprised.