For me, Windows 8 sucks. And that is after trying all versions since the first CP appeared on the scene. I tried to be positive and produced
a dozen Windows 8 tutorials
. But this hybrid UI always gets into my way.
I am currently running Windows 8 Pro in VMware Player and try to keep it updated. But I am not really doing anything with it. I still hope that MS come to their senses and clearly seperate the tablet UI from the PC UI. And those new apps from the apps store I can live without - same goes for the cloud.
My initial reaction to 8.0 hybrid UI was the same, but the more I use the 8.1 hybrid UI, the more are like it. Instead of getting into my way, it makes starting the applications easier by switching between the start and desktop with the "Windows-key", or as you called it in your tutorial the "Start-key".
It is sort of foolish going from the "desktop --> Start --> click on application --> application opens on desktop", but it is fast, faster than going through W7 "Start" menu.
The start screen with the OEM apps can easily be replaced, just like any other OEM apps in W7: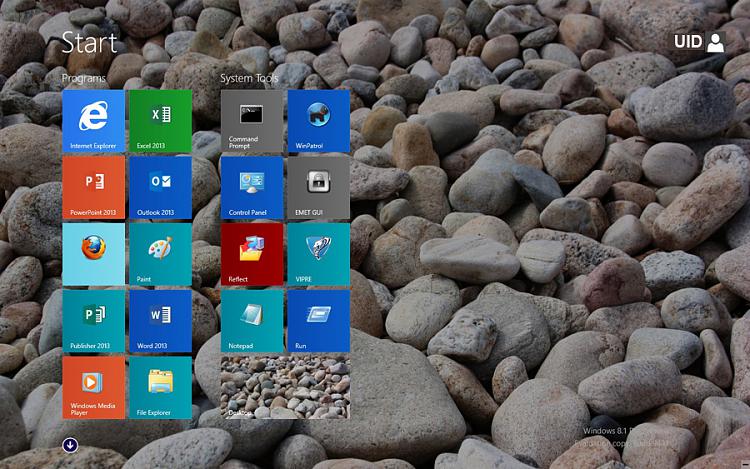 Starting in the desktop pretty much makes it look and act like Windows 7: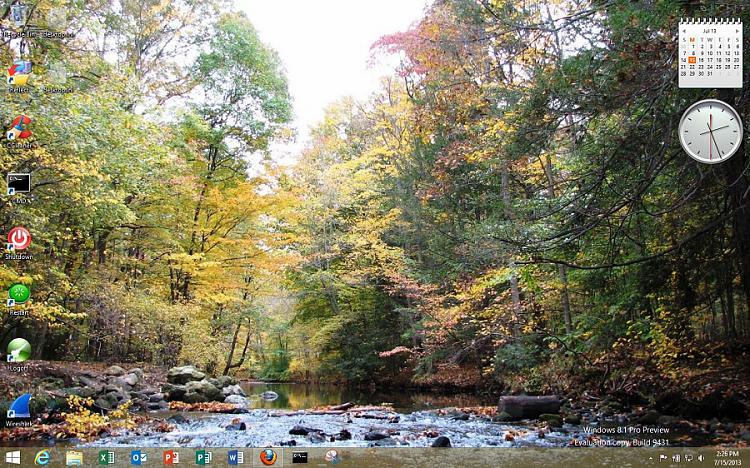 While the desktop has shortcuts for shutdown, restart, and logoff, there's a shortcut for these via the "Alt+F4":
The "Alt+F4" is also useful for closing and exiting any full screen applications that switches to the start screen. I'd prefer switching to the desktop and I'll try to find a way to do just that.
On my old Latitude D630, no touch-screen, the W8.1 is faster than W7. With the customization in place, I actually like it better than W7 and the hybrid UI is one of the reason, but each of its own...