Multitouch Display Laptops Debuted by Acer
Agam Shah, IDG News Service
Oct 14, 2009 4:50 am
Acer introduced its first laptop with a multitouch display, which the company said is an intuitive way to make computing fun and easy.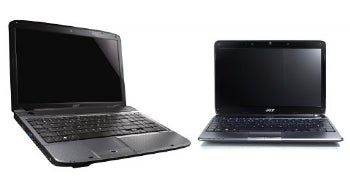 The Acer Aspire 5738PB includes a 15.6-inch screen on which two fingers can be placed to manipulate images, write notes or zoom into maps. Multitouch input brings a new dimension to laptop functionality as it offers a natural way for users to interact with PCs, Acer said in a statement.
Acer joins a bunch of PC makers offering multitouch laptops, including Hewlett-Packard and
Dell
. Lenovo recently
introduced a multitouch laptop
with a four-finger input capability. Acer will start selling the laptop in the U.S. on Oct. 22, the same day Microsoft releases its
next-generation Windows 7 OS
. The laptop will come preloaded with Windows 7, which
has native touchscreen support.