Lets post screenshots and/or descriptions of things we think are new in 7022 to help others decide whether to install:
First thing I found -- I opened Devices and Printers from the Start menu and it popped up an infobar asking for permission to upgrade my
icons
. I don't remember ever seeing this before: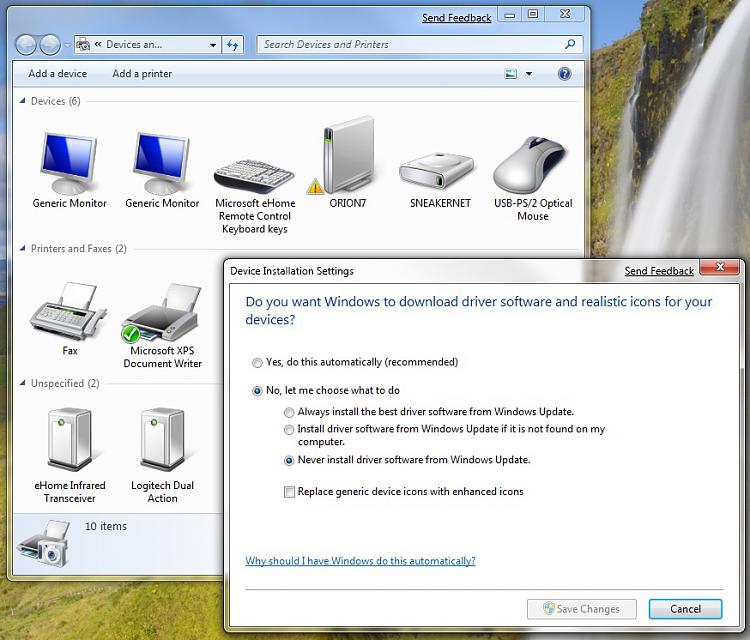 This might be related but appears busted as Windows Update shows nothing but the Maintenance Action Center is complaining about my missing SMBus controller:
Also, there used to be one option, "Show desktop icons" that would show or hide both icons and gadgets. Now there are two options.
7022 must be getting closer to RC as they've started adding sample media:
You can now remove DVD Maker, Media Center and Media Player as well as Windows Search:
EDIT: DO NOT REMOVE SEARCH
I was hoping that removing search would revert libraries back to Vista behavior -- no dice -- it breaks the libraries, the coresponding Start menu items and search box. Seems to also kill federated search. Makes you wonder why they allow you to remove it at all!
Not worth a screenshot but User Accounts now checks in the profile folder (usually c:\users) to see if a profile with that name exists before creating the user, complains about it but does it anyway.
Action Center tray icon shows a little clock overlay while it's starting up rather than remaining MIA for a while on slower machines...
Maybe more to come as I install 7022 on the notebook...