I had no problems with it LevelBest.
Quote:
The support page above has the QualityCompat known issue and I'm good there as I have the key and it reflects the values listed, so I'm thinking the 231MB update has KB4056897 included and the combined update is listed as KB4056894.
The stand-alone kb4056897 is only 66MB for 64bit so there's 165MB of other various updates included.
From the link I provided for the "4" version:
Quote:
Security updates to Windows SMB Server, Windows Kernel, Microsoft Graphics Component, Internet Explorer, and Windows Graphics.
Your download may vary in size, depends on what you have installed and what you need.
~~~ ~~~ ~~~

The biggest problem I'm seeing is that QualityCompat registry entry, if you know how to get around the
registry with regedit
look for: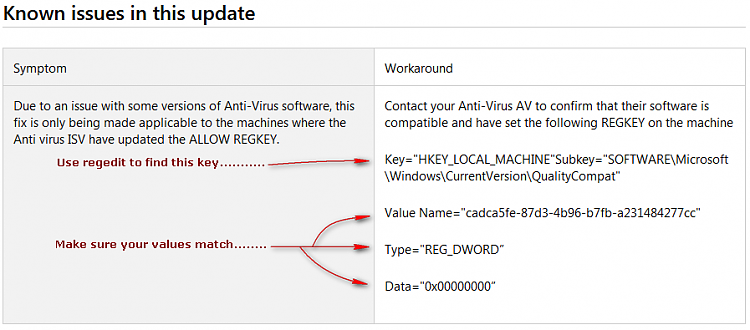 I would advise to not create the key nor change any values, your AV(s) have to do it. So make sure both your McAfee and M-bam are fully up to date.
You may have problems with McAfee,
This list
shows M-bam sets the key but McAfee does not. I have heard if you completely shut down the offending AV you can install the KB then re-start the AV, but that's a decision you alone will have to make. Do you have back-ups and have the booting process set to it's medium?
This is all I could find from the McAfee site:
Meltdown and Spectre 101: What to Know About the New Exploits
You may want to contact McAfee directly to see what's up.