Twitter's purpose is to keep the world informed by serving the public conversation. We work hard to build a great experience for people Tweeting, and seeing Tweets all over the world, and protecting the privacy of the people who use Twitter every day. We believe you should know the types of data you share with us and how we use it. Most importantly, you should have meaningful control over both. We want to empower you to make the best decisions about the information that you share with us and to ensure you feel confident that your data is protected and secure. As Twitter's Data Protection Officer, I will be working to continue our longstanding commitment to protecting you and upholding your right to privacy.
History of Our Privacy Policies
From the beginning, Twitter has been a global platform for people to make themselves heard and to see what's happening. We are proud of our history of partnering with
civil society
and
standing up to governments
to protect and defend the people that use our services, and we continue to evolve
our efforts around documenting our work
.
We also recognize that to enjoy real freedom of expression, you also need and deserve meaningful
privacy and security controls
. It's this very philosophy that has informed the process of updating and revising our Privacy Policy for everyone who uses Twitter around the world. We used this same philosophy in preparing our approach to the EU's General Data Protection Regulation (GDPR), which comes into effect next month.
Upcoming Changes
Starting this month, we'll be introducing some changes to make it easier to manage your personal information on Twitter. As a first step, we've updated our
Privacy Policy
to make it visually clear and easy to use. You'll also see a download button at the top of the page that allows you to get a plain text version if you prefer. It's optimized for both mobile and web.
We want our Privacy Policy to be easy to understand and follow. What you'll see as you navigate through the policy is that we have broken it into seven main sections. This makes up the core of our approach.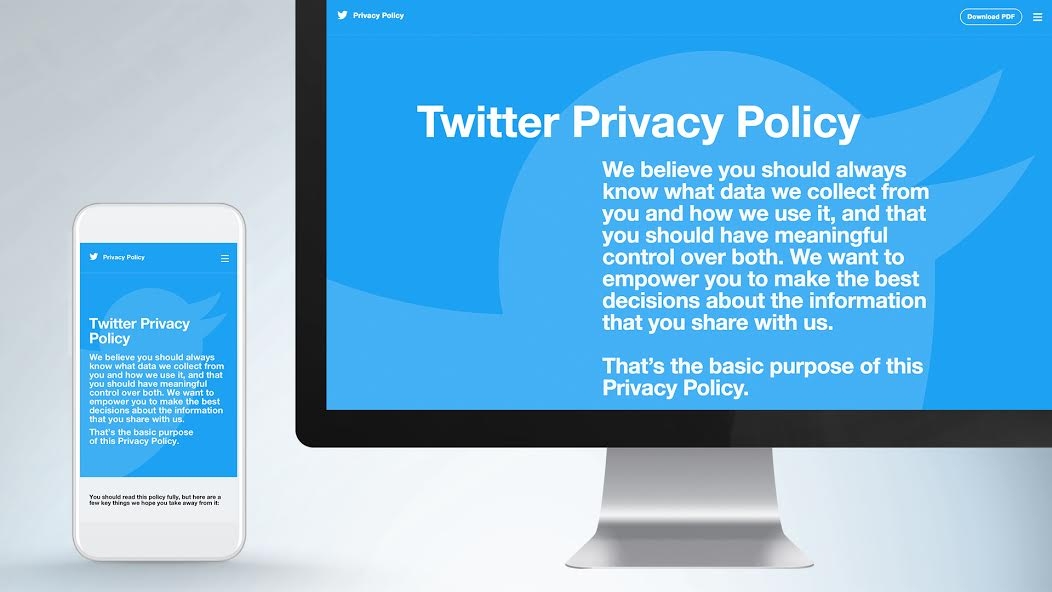 Plain language.
We've expanded and revised content throughout the updated
Privacy Policy
to make sure that some of the more legalistic or technical language is as clear as possible. For example, we think it's absolutely essential that you know exactly what we mean when we refer to location data or data from advertising partners.
Privacy settings.
Woven throughout are direct links to your core privacy and security settings, which are accessible at any time when you are logged into Twitter. Here you can see what data Twitter has relating to your account and you can decide whether you want to share it or not. Over time, as we learn how people use these controls, we'll continue to work to improve them and Twitter as a whole.
A conversation.
We welcome your comments and questions about our data practices. Within the Privacy Policy, you'll find an efficient way to contact Twitter directly about any privacy concerns you may have. When you contact Twitter, only the Data Protection Officer (me) and my team have access to your questions. We'll also keep you posted on our latest updates from
@Policy
.
It's important to note that the new Privacy Policy will take effect on May 25th and will apply globally. By using our services on or after that date, you'll be agreeing to these updates and Twitter's overall Terms of Service.
Next Steps
On May 25th, people who live in the EU who log into their Twitter account will see a prompt that will explain that we've updated our Terms of Service and Privacy Policy to reflect the EU's General Data Protection Regulation. We'll also show you a simple chart that categorizes the legal basis for the personal data we process. Specifically, you'll be encouraged to review our updated policies in full. You'll then be brought to your individual Settings and Privacy section, where we will ask you to review your key current settings. You can leave them all as they are, modify each, and learn more about any of the individual settings before making a change - the choice is entirely in your hands.
Remember, everyone around the world can use the controls we highlight to limit the information we collect about you or how we use it, and change the settings at any time. For now, we encourage everyone to educate and empower themselves by reading our forthcoming
Privacy Policy
in full and to make your voice heard.
Thank you for reading and thank you for your trust.