GeForce RTX 20-Series graphics cards
launched last year, bringing real-time ray tracing and best in class performance to PC gamers worldwide. Now, we're introducing new
GeForce RTX 20-Series SUPER graphics cards
, which increase performance by up to 25%, giving you the power to experience the latest blockbusters with max settings at even faster framerates.
The GeForce RTX 20-Series' performance and real-time ray tracing capabilities are made possible by numerous industry-firsts:
GeForce RTX 2060 SUPER: Faster than GTX 1080, 7+7 TOPs, 57 Tensor TFLOPs
The GeForce RTX 2060 receives a supercharged update for its SUPER release, thanks to the addition of an extra 2 GB of 14 Gbps GDDR6 VRAM, a Memory Bandwidth increase of 33.2%, plus an additional 256 CUDA Cores, 32 Tensor Cores and 4 RT Cores.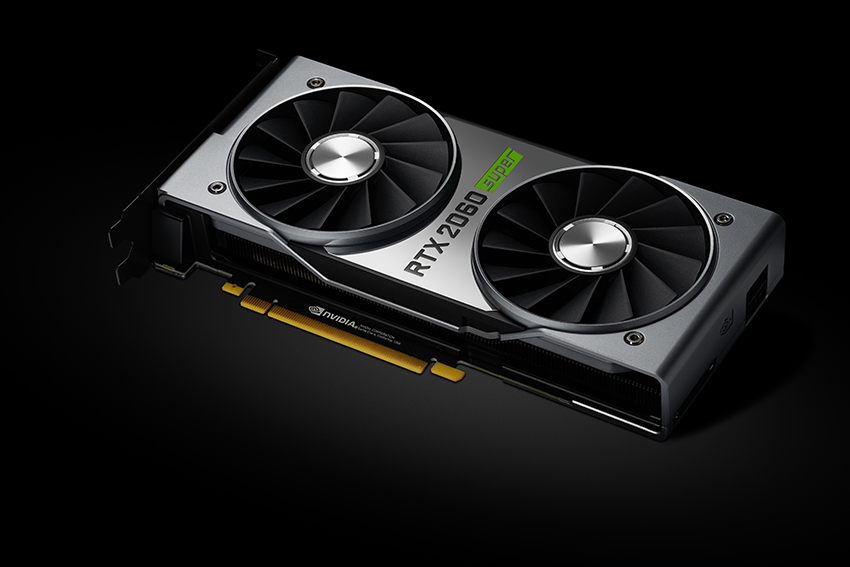 Together, these improvements accelerate gameplay on the
GeForce RTX 2060 SUPER
by up to 22%, for a 15% performance advantage, on average, versus the GeForce RTX 2060.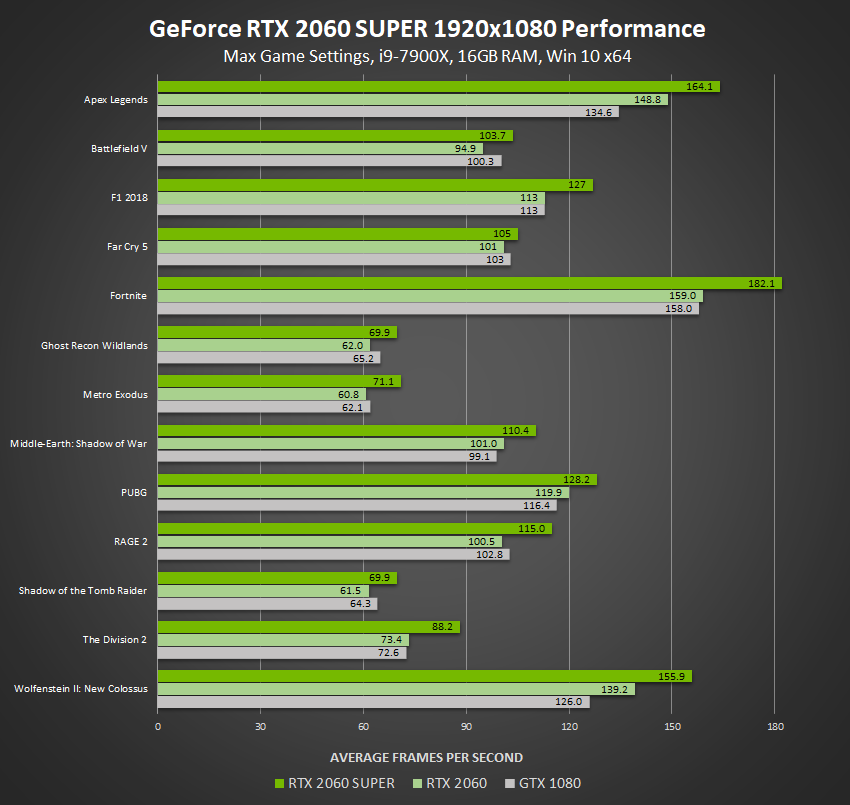 The GeForce RTX 2060 SUPER is also noticeably faster than the GeForce GTX 1080
At $399, the GeForce RTX 2060 SUPER delivers fantastic game performance and enables you to play ray-traced games at 60 FPS at 1920x1080, with other game settings maxed out. The original GeForce RTX 2060, the first step up to RTX, is available starting at $349.
GeForce RTX 2070 SUPER: Faster than GTX 1080 Ti, 9+9 TOPs, 73 Tensor TFLOPs
The
GeForce RTX 2070 SUPER
features an extra 256 CUDA Cores, 32 Tensor Cores, and 4 RT Cores, that together with a 150 MHz Boost Clock bump increase game performance by up to 25%, compared to the original GeForce RTX 2070: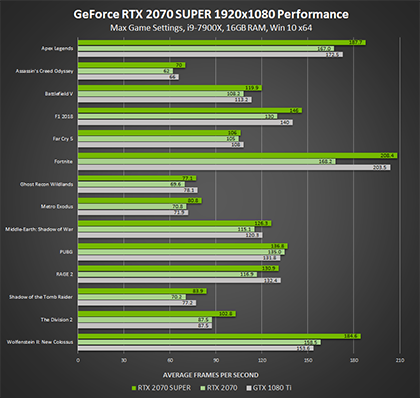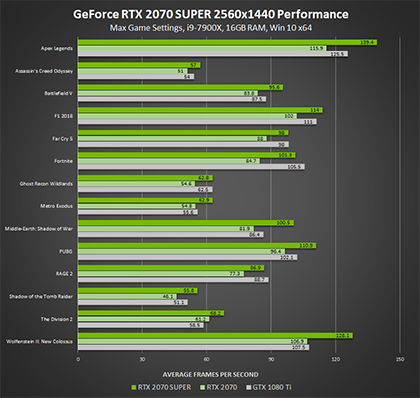 The GeForce RTX 2070 SUPER is also faster than the GTX 1080 Ti, our previous-gen flagship
Furthermore, the $499 GeForce RTX 2070 SUPER, available July 9th, adds a NVLINK SLI connector for gamers wanting additional performance in select games and apps.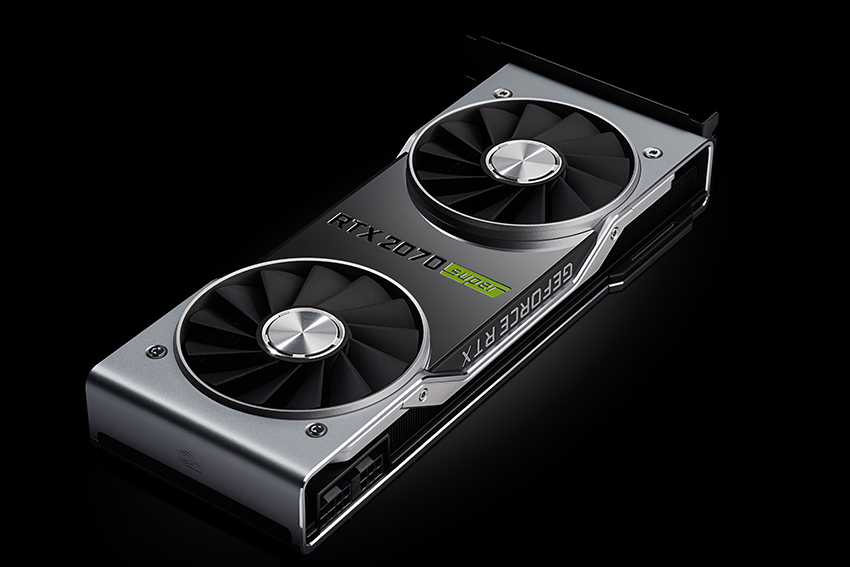 GeForce RTX 2080 SUPER: Faster than Titan Xp, 11+11 TOPs, 89 Tensor TFLOPs
The Turing-architecture
GeForce RTX 2080 SUPER
is our fastest SUPER GPU, effortlessly outpacing the previous-gen $1,200 Pascal-architecture NVIDIA TITAN Xp , and every other GeForce GPU apart from the
GeForce RTX 2080 Ti
, which remains king of the hill.
Compared to the previously released GeForce RTX 2080, the new SUPER GPU is equipped with additional CUDA, RT and Tensor Cores, as well as 15.5 Gbps GDDR6 VRAM that increases memory bandwidth to 496.1 GB/s (a 10.7% improvement).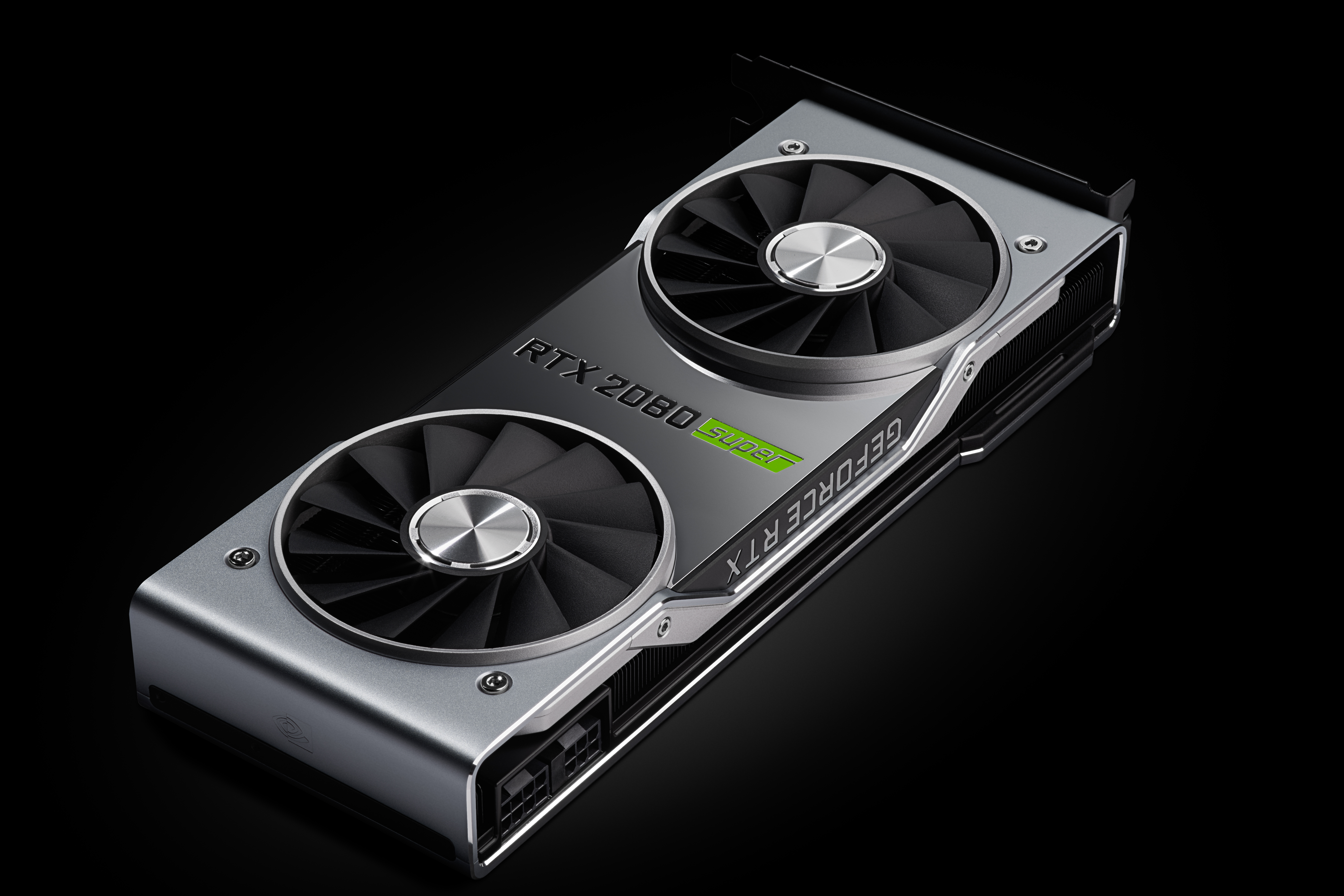 Furthermore, the GeForce RTX 2080 SUPER GPU sees its GPU Boost Clock increased by 105 MHz to 1815 MHz, which combined with the other hardware enhancements improves all of its performance metrics.
The GeForce RTX 2080 SUPER will be available starting at $699 on July 23rd.
Ray Tracing: Only Possible On RTX, Now Even Better With SUPER
Ray tracing
is the only way to add truly realistic effects that have unprecedented fidelity and accuracy, and Turing-architecture GeForce RTX 20-Series GPUs remain the only GPUs that enable you to experience them with great performance. To date, we've marvelled at real-time lifelike reflections in
Battlefield V
, jaw-dropping global illumination lighting in
Metro Exodus
, multi-layered pixel-perfect shadows in
Shadow of the Tomb Raider
, and the path traced remastering of Quake II in
Quake II RTX
.
In the coming year, blockbusters such as Call of Duty: Modern Warfare, ControlTM, Cyberpunk 2077, DOOM Eternal, Vampire: The Masquerade – Bloodlines 2, Watch DogsTM: Legion, and Wolfenstein®: YoungbloodTM will be embracing ray tracing, giving their players the most immersive and realistic gameplay possible.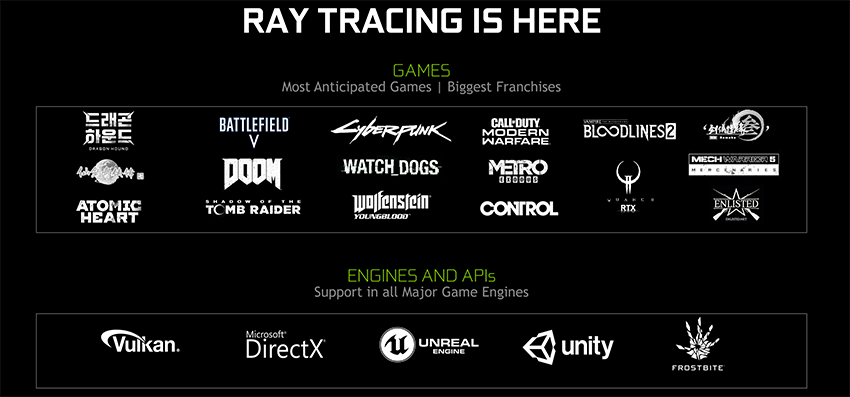 Even more games are adding ray tracing - for announcements and first details stay tuned to [URL="https://www.nvidia.com/en-us/geforce/news/"]GeForce.com
With support from the most popular game engines, and blockbusters adopting ray tracing in droves, GeForce RTX 20-Series GPUs are the only GPUs capable of giving you the definitive experience with ray tracing enabled. And with our new SUPER GPUs, ray tracing performance is even faster.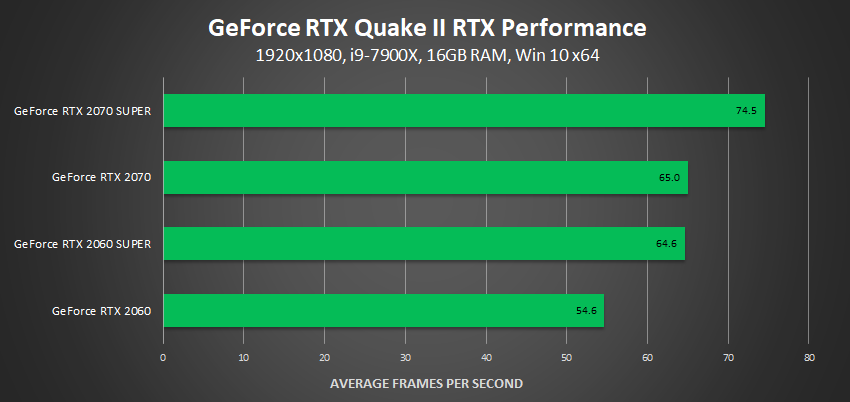 Quake II RTX
, available to
try for free
, is the first game with lighting, shadows and other effects rendered solely via path tracing, an advanced and intensive form of ray tracing.
With the extra RT Cores in SUPER GPUs, performance in the path-traced Quake II RTX increases by over 15%, enabling the GeForce RTX 2060 SUPER to exceed 60 FPS, and evenly match the GeForce RTX 2070.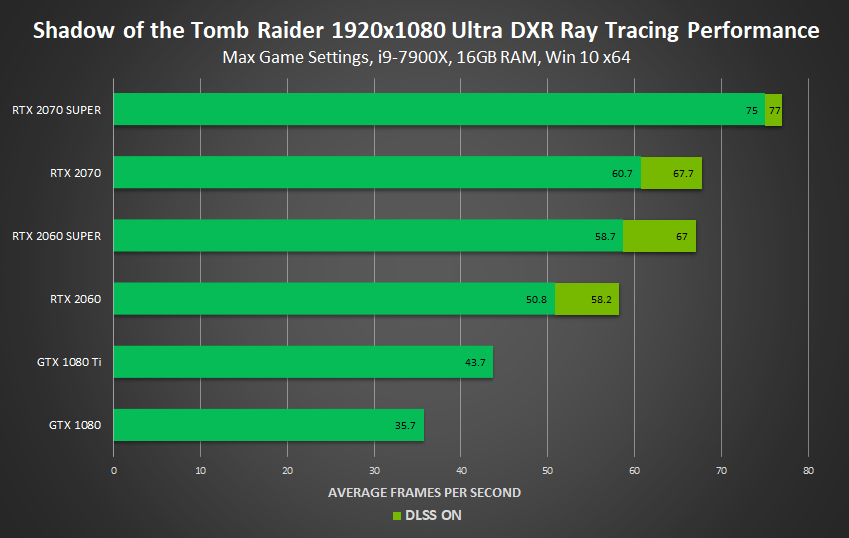 Shadow of the Tomb Raider
features immersive
real-time ray-traced shadowing
that greatly enhances fidelity in the game's jungle, and in numerous other locations throughout Lara's latest adventure.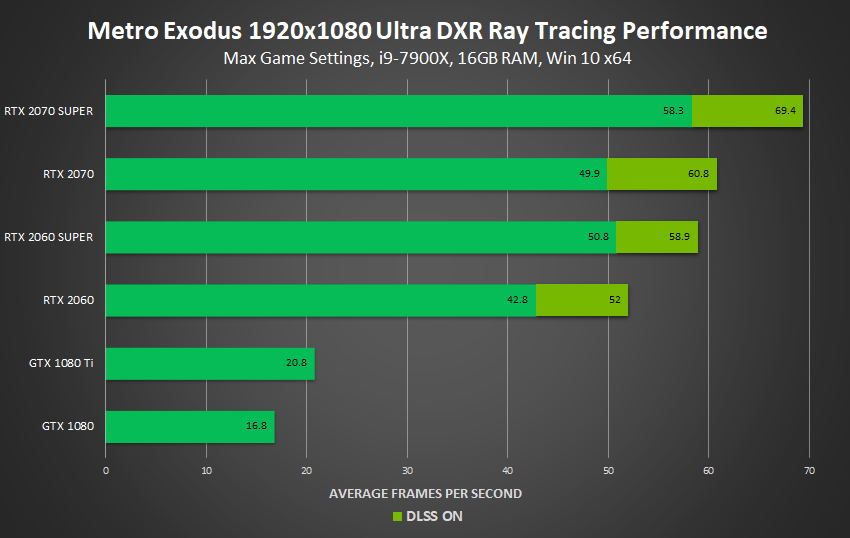 Metro Exodus
introduced gamers to
real-time ray-traced global illumination
, adding realistic world lighting for the first time in any game ever, resulting in stunning scenes that were previously impossible to render.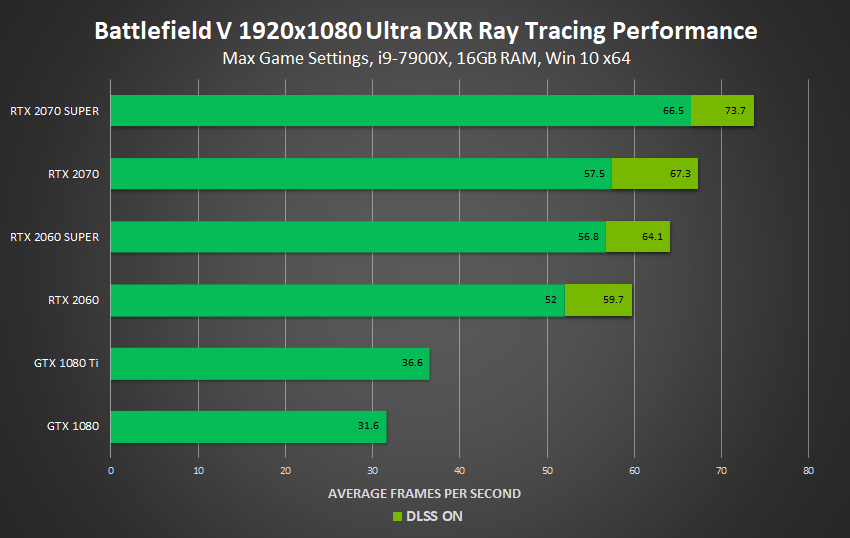 Battlefield V
demonstrated the possibilities of ray tracing to the world, wowing gamers with realistic
ray-traced reflections
that reflected surrounding detail, and increased the quality of other reflections to previously unseen levels.
Announcing The Super Fast. Supernatural Bundle
For a limited time, starting on July 9th, qualifying GeForce RTX 2060 SUPER, GeForce RTX 2070 SUPER and GeForce RTX 2080 SUPER graphics cards and desktops will include copies of both ControlTM and Wolfenstein(R): YoungbloodTM, two games that take full advantage of SUPER GPUs.
Control's
use of real-time ray-traced reflections, contact shadows and diffuse global illumination make it one of the most graphically advanced games to date. And as the PC platform of choice for
Wolfenstein: Youngblood
, we're working with Bethesda Softworks and MachineGames to enhance the game with cutting-edge ray-traced effects, and performance-accelerating
NVIDIA Adaptive Shading
.
When purchasing a participating product, please check listings closely for bundle participation and availability, as bundle codes cannot be granted for non-participating products.
Introducing FrameView, An In-Game Performance and GPU Monitoring Tool
Alongside our SUPER GPUs, we're launching FrameView, an application for measuring framerates, frame times, power, and performance-per-watt on a wide range of graphics cards. Detailed metrics are presented in real-time with a configurable overlay, and reported to a log file for convenient analysis, leveraging PresentMon for analytics.
FrameView works with all major graphics APIs and UWP (Universal Windows Platform) apps. Plus, it enables real-time power measurement through APIs, recording chip and board power without the need for special physical equipment, all while also capturing detailed performance information.
For further information, and the app itself, come back to
GeForce.com
on July 9th.
GeForce RTX 20-Series SUPER GPUs: Faster, Better, Super. Available Starting July 9th
Turing is the most advanced GPU architecture available, and the GeForce RTX graphics cards that use it are the fastest gaming cards on the planet. With the launch of our
GeForce RTX SUPER graphics cards
, joining the existing RTX 2060 (starting at $349) and RTX 2080 Ti (starting at $999), the RTX family is best-in-class.
Whether you want the best possible performance, cutting-edge ray-traced effects, support for performance-accelerating tech like DLSS and Variable Rate Shading, support for future graphics tech like Mesh Shading, or simply the best power efficiency, SUPER comes out on top in every way, and is ready for all future games and experiences.
Furthermore, GeForce RTX SUPER GPUs have the support of partners worldwide, including ASUS, Colorful, EVGA, Gainward, Galaxy, Gigabyte, Innovision 3D, MSI, Palit, PNY and Zotac, who will begin shipping custom variants of our
GeForce RTX 2060 SUPER
and
GeForce RTX 2070 SUPER
graphics cards on July 9th, and the
GeForce RTX 2080 SUPER
on July 23rd. With models featuring custom coolers, additional out of the box overclocks, closed loop cooling, and water cooling, you'll be able to find a SUPER GPU for your specific needs.
For more on the great games that will play best on whichever SUPER graphics card you buy, stay tuned to
GeForce.com
.