August 11, 2020—KB4571719 (Security-only update)
Applies to: Windows 7 Service Pack 1, Windows Server 2008 R2 Service Pack 1, Windows Embedded Standard 7 Service Pack 1, Windows Embedded POS Ready 7, Windows Thin PC
IMPORTANT
Starting in July 2020, all Windows Updates will disable the
RemoteFX vGPU
feature because of a security vulnerability. For more information about the vulnerability, see
CVE-2020-1036
and
KB4570006
. After you install this update, attempts to start virtual machines (VM) that have RemoteFX vGPU enabled will fail, and messages such as the following will appear:
"The virtual machine cannot be started because all the RemoteFX-capable GPUs are disabled in Hyper-V Manager."
"The virtual machine cannot be started because the server has insufficient GPU resources."
If you
re-enable
RemoteFX vGPU, a message similar to the following will appear:
"We no longer support the RemoteFX 3D video adapter. If you are still using this adapter, you may become vulnerable to security risk. Learn more (Microsoft - Official Home Page
IMPORTANT
Verify that you have installed the required updates listed in the How to get this update section before installing this update.
IMPORTANT
Some customers who use Windows Server 2008 R2 SP1 and have activated their ESU multiple activation key (MAK) add-on before installing the January 14, 2020 updates might need to re-activate their key. Re-activation on the affected devices should only be required once.  For information on activation, see this
blog
post.
IMPORTANT
WSUS scan cab files will continue to be available for Windows 7 SP1 and Windows Server 2008 R2 SP1. If you have a subset of devices running these operating systems without ESU, they might show as non-compliant in your patch management and compliance toolsets.
IMPORTANT
Customers who have purchased the
Extended Security Update (ESU)
for on-premises versions of these operating systems must follow the procedures in
KB4522133
to continue receiving security updates after extended support ends on January 14, 2020. For more information on ESU and which editions are supported, see
KB4497181
.
IMPORTANT
Starting on January 15, 2020, a full-screen notification will appear that describes the risk of continuing to use Windows 7 Service Pack 1 after it reaches end of support on January 14, 2020. The notification will remain on the screen until you interact with it. This notification will only appear on the following editions of Windows 7 Service Pack 1:
Note
The notification will not appear on domain-joined machines or machines in kiosk mode.
Improvements and fixes
This security update includes quality improvements. Key changes include:
Security updates to Windows App Platform and Frameworks, Windows Graphics, Windows Media, Windows Cloud Infrastructure, Windows Authentication, Windows Kernel, Windows Hybrid Cloud Networking, Windows Peripherals, Windows Storage and Filesystems, Windows Network Security and Containers, Windows File Server and Clustering, Windows Hybrid Storage Services, Microsoft Scripting Engine, and Windows SQL components.
For more information about the resolved security vulnerabilities, please refer to the
Security Update Guide
.
Known issues in this update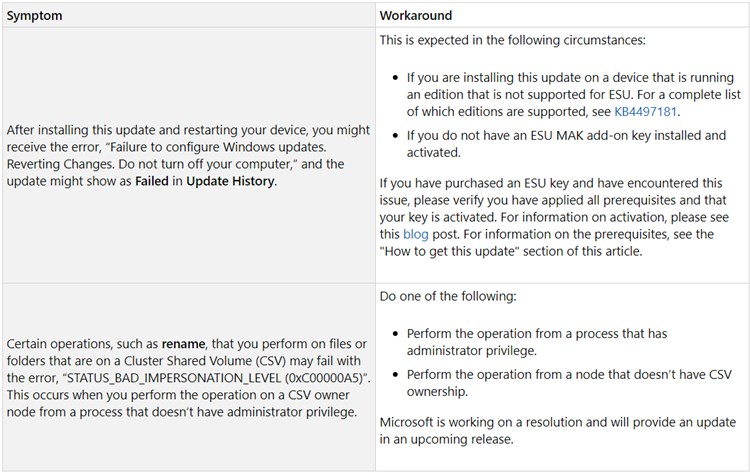 How to get this update
Before installing this update
Prerequisite:
You must install the updates listed below and
restart your device
before installing the latest Rollup. Installing these updates improves the reliability of the update process and mitigates potential issues while installing the Rollup and applying Microsoft security fixes.
After you install the items above, we strongly recommend that you install the latest SSU (
KB4570673
). If you are using Windows Update, the latest SSU will be offered to you automatically if you are an ESU customer. To get the standalone package for the latest SSU, search for it in the
Microsoft Update Catalog
. For general information about SSUs, see
Servicing stack updates
and
Servicing Stack Updates (SSU): Frequently Asked Questions
.
Install this update
File information
For a list of the files that are provided in this update, download the
file information for cumulative update 4571719
.