Looking at the video playback improvements in Windows 7
We've already touched upon the Improvements coming in Windows Media Player 12 that were demonstrated at PDC 2008. Regardless of whether you like and use WMP or not, you'll be happy to note that in terms of better format support, the Windows 7 Developer Guide supports the information that we were shown for WMP12:
In Windows 7, Media Foundation provides extensive format support that includes codecs for H.264 video, MJPEG, and MP3; new sources for MP4, 3GP, MPEG2-TS, and AVI; and new file sinks for MP4, 3GP, and MP3. In addition, a new DirectShow wrapper source provides a bridge between DirectShow and Media Foundation. With it, a Media Foundation application can play older media formats that lack native Media Foundation support.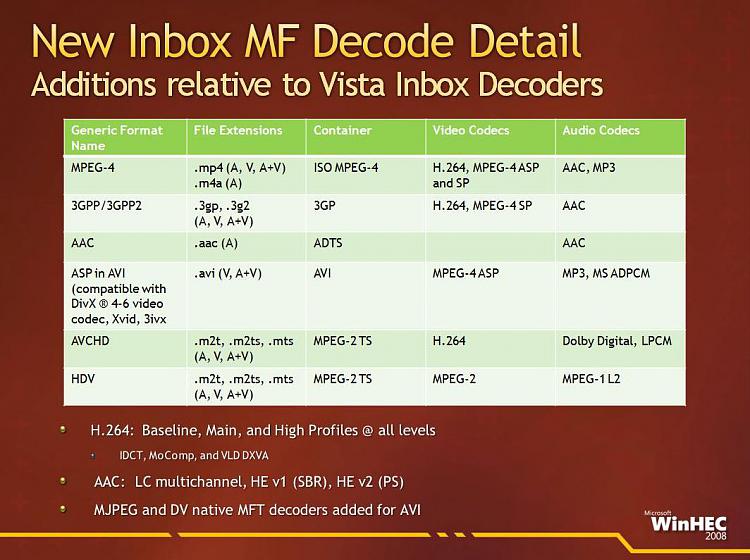 The slide above is from a Power Point presentation from WinHec 2008. It goes much deeper into what Windows 7 will offer: not only decoding, but encoding and transcoding enhancements as well. These new additions aren't replacements for what's currently out in the market right now, but they do get the basics done and should make it much easier to develop audio and video applications in Windows 7.
Read more at the source
.
Later

Ted