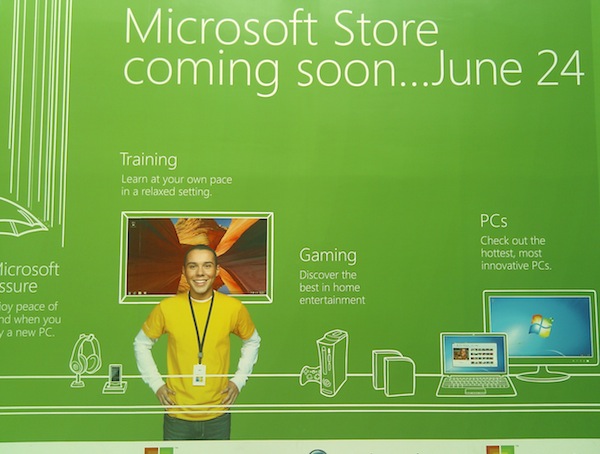 Guess what's coming to San Diego in two weeks? If you answered iPhone 4, congratulations for being right but not giving the right answer. Microsoft plans to open a new retail store on the same day (its second in California). The duo launches could be speculator competition and ground zero for fandom, should the "I'm a Mac" and "I'm a PC" crowds choose to rally for their camps. If the measure is the longest line on launch day, who will win?
In a rare lunchtime outing, today I hustled over to Fashion Valley Mall, where I was stunned to see the sign above. By the way, I snapped the photo using the Google Nexus One. What a lousy camera! Is the camera white balance-challenged or what? Nexus One muted the bright green, which I only partially revived through editing. Geez. Back on topic, yes, I was stunned -- by the date and by something else. The Microsoft Store is four shops down from the Apple Store. That's right four stores -- and a walkway between the middle two.
I can't imagine a stranger location because of the adjoining companion shops -- Juicy Couture and Louis Vuitton. Well, there goes the neighborhood, as they say. If I owned either store, I'd cringe about a bunch of geeks dressed in original Star Trek color-like T-Shirts moving in next door. (Why are there red shirts in the Microsoft Store universe? Red shirts were the most likely killed in the original Trek. Bad omen? Over confidence? Neither?) Seriously, Fashion Valley has been undergoing an upscale makeover, and I struggle to see how the Microsoft Store fits in with fashionista central.