Firefox users are howling that a widely-used browser add-on designed to protect them from unwanted cookie tracking has been automatically updated with what they see as overly intrusive "bloatware".
On June 14, after it was acquired by a software outfit known as Abine, a new version of the
TACO behavioral-ad–blocking add-on
was pushed out via Mozilla's auto-update process — which means it has received Mozilla's approval — and an army of users are complaining of a kind of privacy add-on bait-and-switch.
"Despicably evil move guys. Using the trusted update path to stealthily 'update' to a bloatware shareware suite is just evil. Now I have to completely blow away this profile and reinstall all my TRUSTED extensions," says one reviewer. "See how easy it is to lose trust. *snapofthefingers* gone."
Speaking with
The Reg
, Abine has defended the upgrade, saying that Mozilla asks users for their approval before downloading the new add-on and that although the add-on installs a host of new tools, any unrelated to TACO's original cookie management mission are turned off by default.
"That's why we think of it as a legitimate upgrade," co-founder and CEO Eugene Kuznetsov tells
The Reg
. "You need [Abine's additional cookie management tools] to maintain the level of privacy TACO gave to a year ago. Behavioral ad networks are always adding new tools and you need new tools to stop them."
A Mozilla spokeswoman said: "TACO changed owners, and the new owners changed the add-on radically. It still provides the same core functionality, but the user interface is very different and there are a large number of extra features and privacy tools. The add-on update was approved by Mozilla. It is safe for users and follows our policies set forth in our Add-on Review Process." You can peruse the process
here
.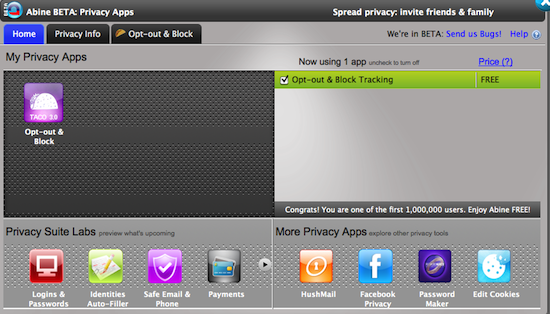 Abined TACO