A humble little system upgrade....
I wanted to upgrade my Sapphire Radeon HD 4830 graphics card in my humble Q6600 3.0 GHz mini-tower box.
Of course that meant I needed a new PSU.....
Then I scored a deal on an MSI N570GTX Twin Frozr III PE/OC...
After getting the MSI N570GTX Twin Frozr III PE/OC card I stuffed it and the new Rosewill HIVE-650 PSU into my minitower case to check it out. I quickly realized the mini-tower case was not going to cut it. Temperatures and fan noise were way to high.
So I transplanted my system from the overstuffed mini-tower case to a new budget mid-tower case (Rosewill Smart One). Everything moved over well but I had to fuss with the cable management a bit before I was satisfied.
With the old case the GPU/CPU:
Idle/Normal Usage Stock Settings: GPU/CPU Temps 40c/50c.
Unigine Heaven Benchmark (90 minute run) 860 MHz Core: GPU/CPU Temps 75c/70c.
The numbers made me uneasy.
New Case/Configuration are:
Idle/Normal Usage (stock GPU settings):
Core/Shader/Memory MHz: 770/1540/2000 VID: .912/.987 (+0)
Temps - GPU: 35c Highest CPU Core: 40c
Fans: GPU 1650 RPM (42%) CPU: 1040 RPM Top: 962 RPM
Unigine Heaven Benchmark (90 minutes - stable)
Core/Shader/Memory MHz: 870/1740/2000 VID: 1.062 (+75)
Temps - GPU: 63c Highest CPU Core: 59c
Fans: GPU: 3360 RPM (63%) CPU: 1298 RPM Top: 1097 RPM
I am pretty well pleased with the improvements. I did not want to break my new toy, at least not right away.
This card continues to surprise me. For my budget, I could not be happier!
I am still tweaking the TFIII and case configuration....
The BEFORE Picture
- there is only so much %#$@ you can stuff into a minitower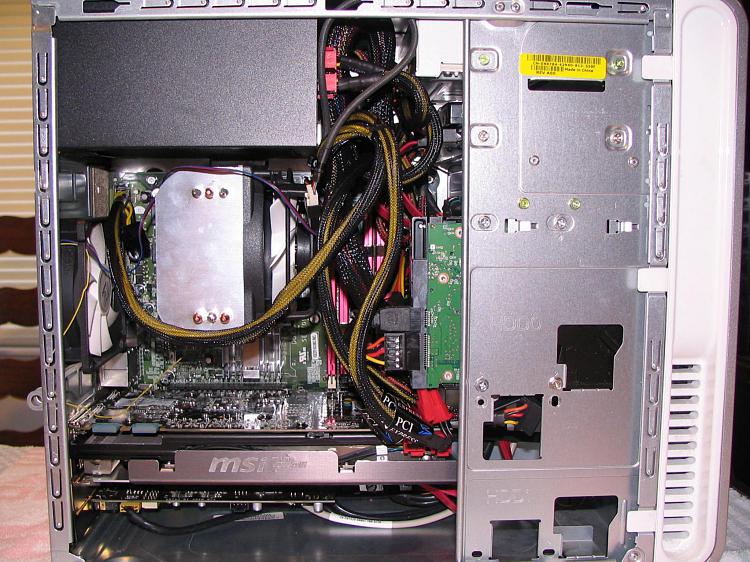 What's cable management?

The AFTER Picture
- MUCH BETTER!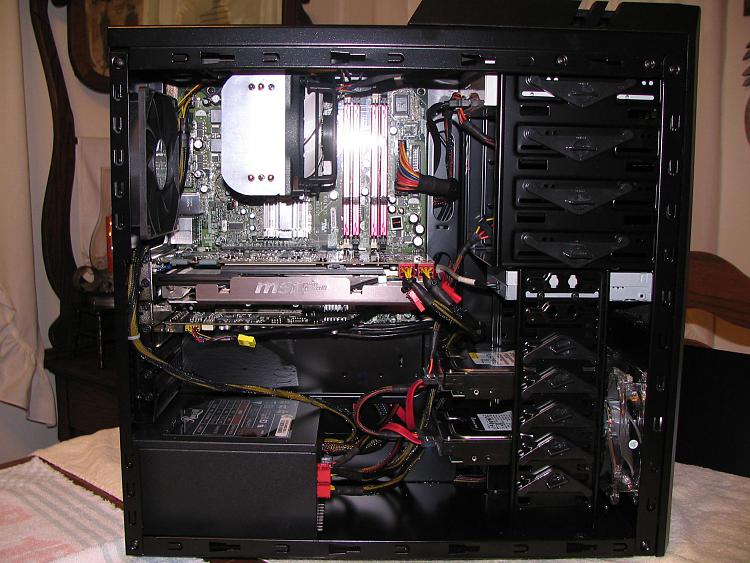 Fussing over the cable management took far longer than transferring the components.