Well, I think I finally have the new build dialed in, but I'm left with a weird little issue that I've seen before with my old system.
I replaced a Foxconn A7DA-S and Phenom II 920 about a month ago. The new build is in my system specs, but I'll recap a little:
- ASUS M4A79XTD EVO Motherboard
- Phenom II 955BE @ stock speed
- 4 GB Mushkin DDR3 (2 x 2 GB)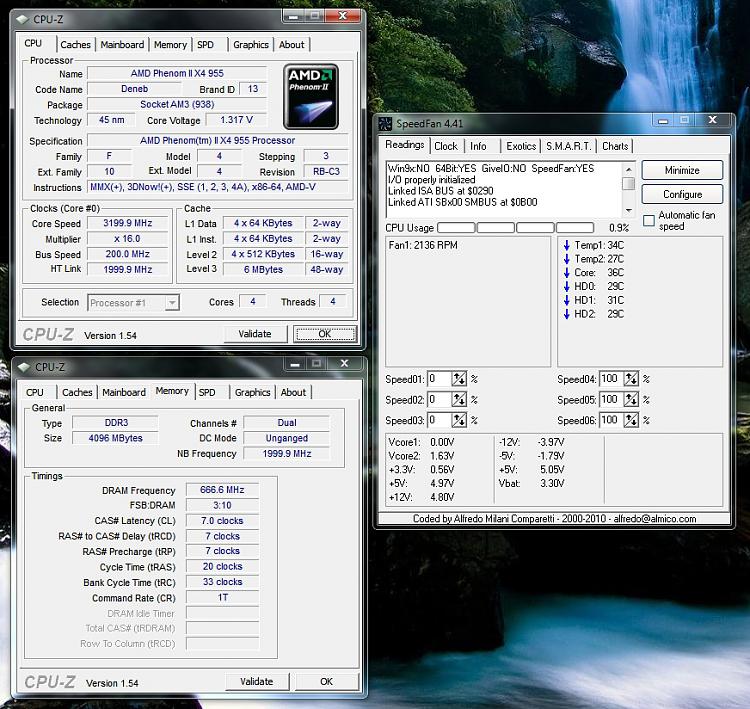 I've had some issues since putting this together. The worst was the complete failure of both of my new OCZ RAM sticks after two weeks, but other than that, things seem to be ironed out now, except for one thing.
Considering the CPU cooler that I'm using, I think I should have a little better temp at idle than you see in the screen shot. Ambient is about 22 - 24C, and my machine at work has a 965 in it, but it's otherwise the same, runs about 32C for the same ambient on a stock Phenom cooler at 1.27V core voltage.
I've lowered the CPU voltage, bit by bit, but here's where the problem happens. At my current core voltage (1.32V), Windows doesn't always load everything into the system tray. It still loads the programs, because I can use them, but the icons and notifications don't always show. It's hit or miss, and a reboot will load some of the other ones, or all of them, or none. Raising the voltage helps sometimes, sometimes not. I ran Prime95 overnight the night before last, and memtest86+ the night before that. 9 hours of each and no failures at all, so I'm pretty confident that my voltage isn't the problem.
Could this be a Windows issue that I'm mistaking for a hardware problem? I've had no crashes or freeze ups since replacing the memory, so it isn't that. I'm planning on picking up an SSD in a couple of weeks, so I'm waiting to do a fresh install. Maybe that will help, I don't know.
Any ideas on what causes this? Or am I just worrying for nothing?
Thanks.