To be clear: If EIST (
Enhanced Intel SpeedStep® Technology
) is
disabled
, your overclock speed
will
shown because the core frequency isn't reduced, thus the processor is running full speed all the time, even if overclocked.
EIST.....
Quote:
Enhanced Intel SpeedStep Technology allows the system to dynamically adjust processor voltage and core frequency, which can result in decreased average power consumption and decreased average heat production. By decreasing power and heat on desktop PCs, system builders can (depending on system configurations) potentially lower acoustics, and even develop more innovative small form factor designs. Additionally, this feature can help address power concerns in companies with sites approaching the limits of bounded electrical infrastructures. Combined with existing power saving features, Enhanced Intel SpeedStep Technology can provide an excellent balance between providing power when you need it and conserving it when you don't.
However if EIST is enabled, the frequency is adjusted to fit user demands.
Now, looking at how Windows displays the CPU speed under the
Properties
page, it won't go below the designed processor speed, but it will show the OC speed if EIST is
disabled
.
So.....
- Enabled - Default (No OC) speed displayed - Even if a load is put on the system!
- Disabled - OC Speed displayed - even if no load is on the system.
Why Windows does it this way? I can't explain.
Here's mine with EIST
Enabled
!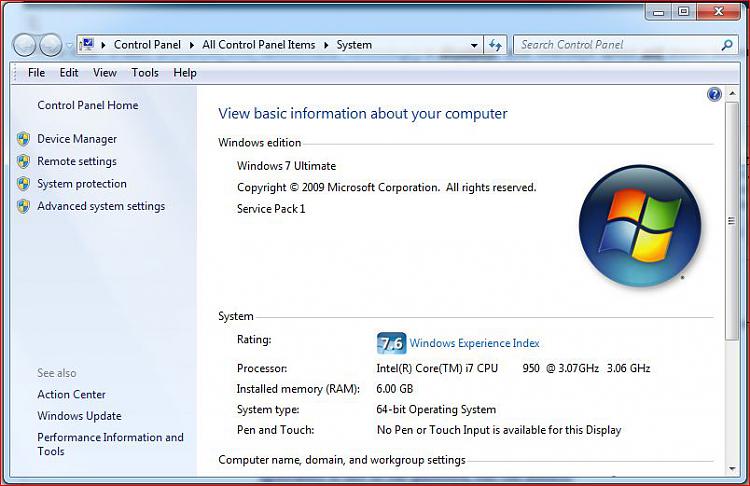 My processor is actually overclocked to 3.8GHz, yet the
Properties
pages show the default speed of 3.07GHz!
With that said....
my system page in control panel shows my overclock:
Attachment 153612
is this what you mean?
(
i also have eist enabled
)
You might want to doublecheck your EIST settings in the BIOS.
My two cents.