Recently I had purchased a Logitech 910 web cam and decided to test it out by taking some better pictures of my rig originally posted in "Show us your rig 2".
Since then I also added front USB 3 ports that were purchased through the Coolermaster store for a HAF 932 case and decided to remove the TV card as I am not using it.
Quote:
Re-posting parts of the original post with updated pics
I built my rig in March of 2011 and was my first time building a Computer using the knowledge and contributions of other members here plus researching manufacturers sites for hardware.
It is a sandybridge based rig and it is running great. The only major hiccup was a DOA Evga 570 HD Video card but the retailer replaced it with the Asus card.
OS
Windows 7 Professional
CPU
Intel i7 2600K @ 3.40 GHz
Motherboard
ASUS Sabertooth P67
Memory
Corsair Vengeance 16GB DDR3 1600MHz CL9 Dual Channel Kit
Graphics Card
Asus ENGTX570 GeForce GTX 570 1280MB GDDR5 PCI-E w/ Dual DVI
Monitor
Sharp 42" LCD TV ( 5 HDMI and VGA inputs )
Keyboard
Logitech Gaming Keyboard G110
Mouse
Microsoft Confort Optical Mouse 3000
PSU
Corsair TX 850W Power Supply w/ 140mm Fan
Case
Cooler Master HAF 932 High Air Flow Full Tower Chassis
Cooling
Zalman CNPS10X FLEX CPU Cooler & 2 Thermalright Silent Fans
Hard Drives
Intel SSD 510 Series SATA III Solid State Drive, 120GB
Blu Ray Writer
LG Super Multi Blue Internal Blu-ray Disk Rewriter - BH10LS30
TV Card
Hauppauge - HVR 1800 Media Center Kit - NTSC and ATSC TV Tuner
Media Card Reader
Kama Reader 2, 45-in-1 Card Reader
Parts & Top 230mm Fan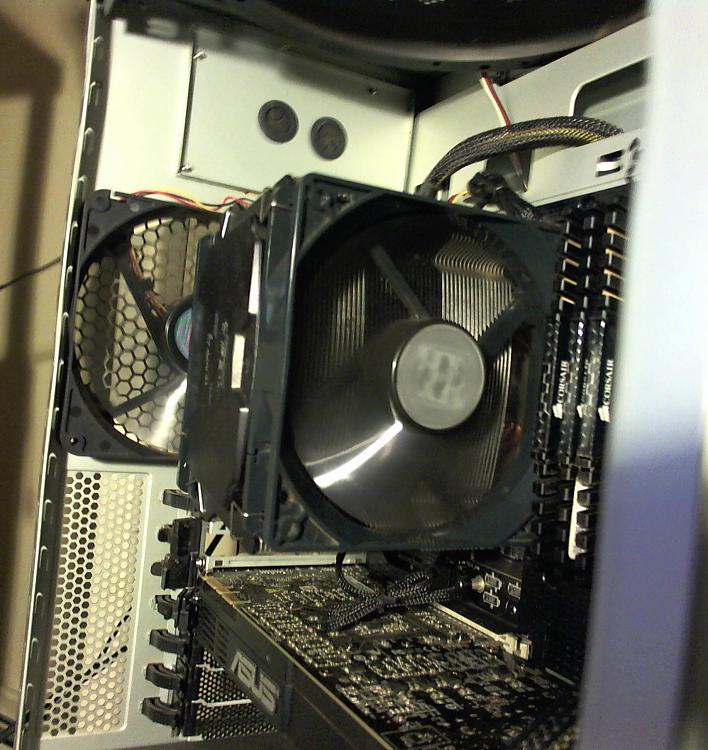 CPU Cooler & Memory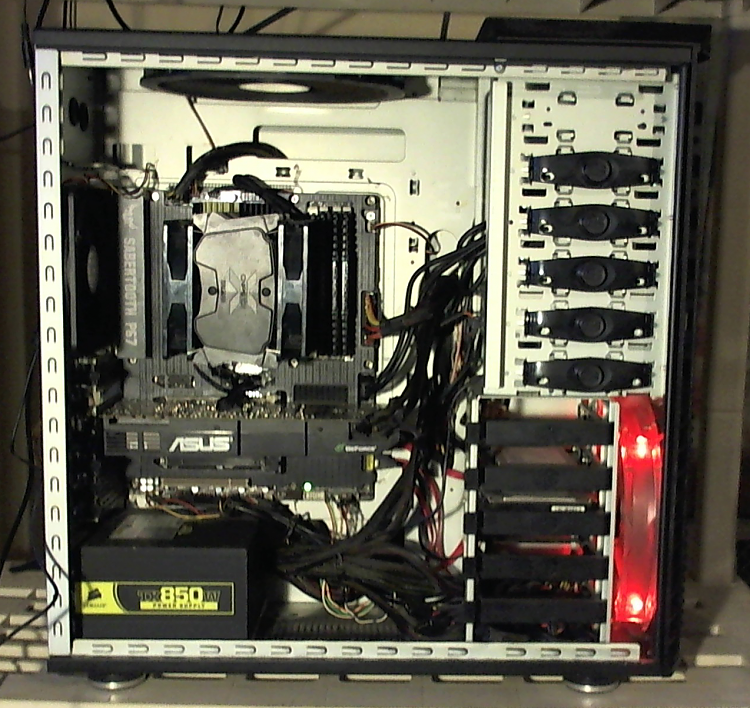 Internals & L Side behind mobo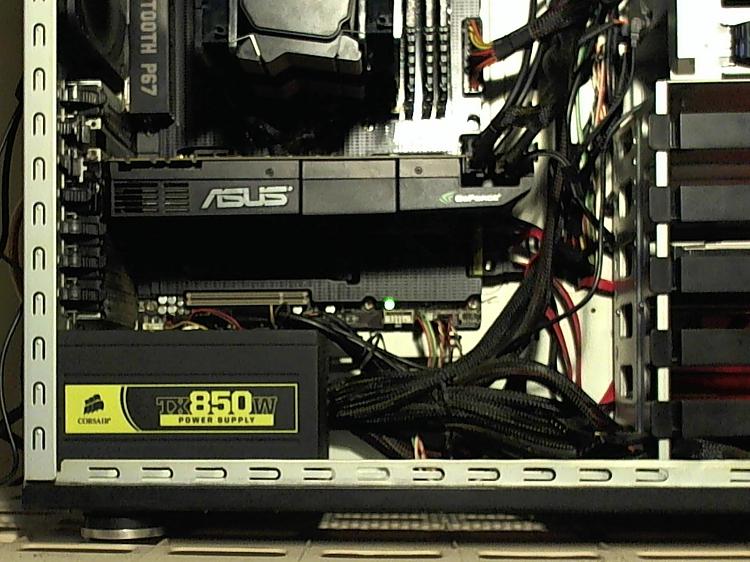 Solid State Drive,Power Supply & Video Card
Front USB 3 ports, Blu Ray & Card reader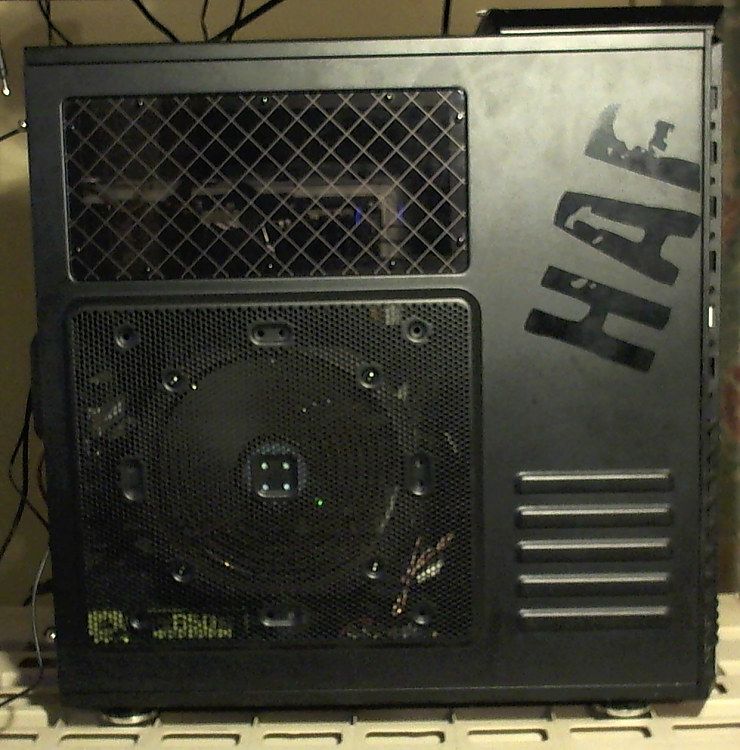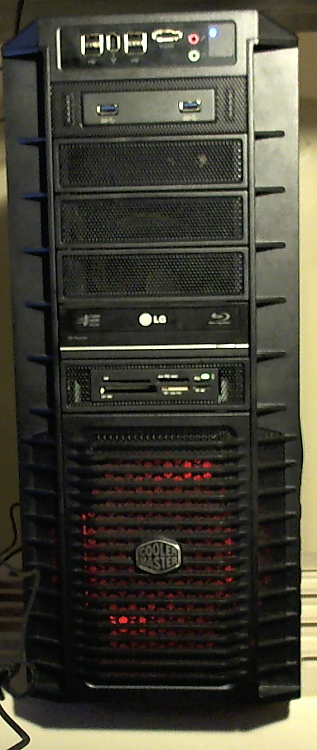 R Side Fan & Front
Wireless Keyboard / Mouse & Sharp 42"in TV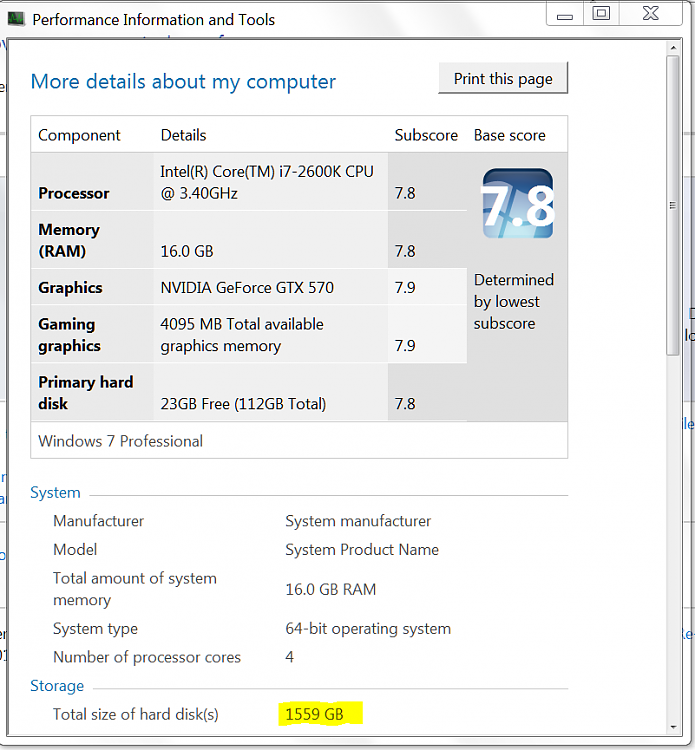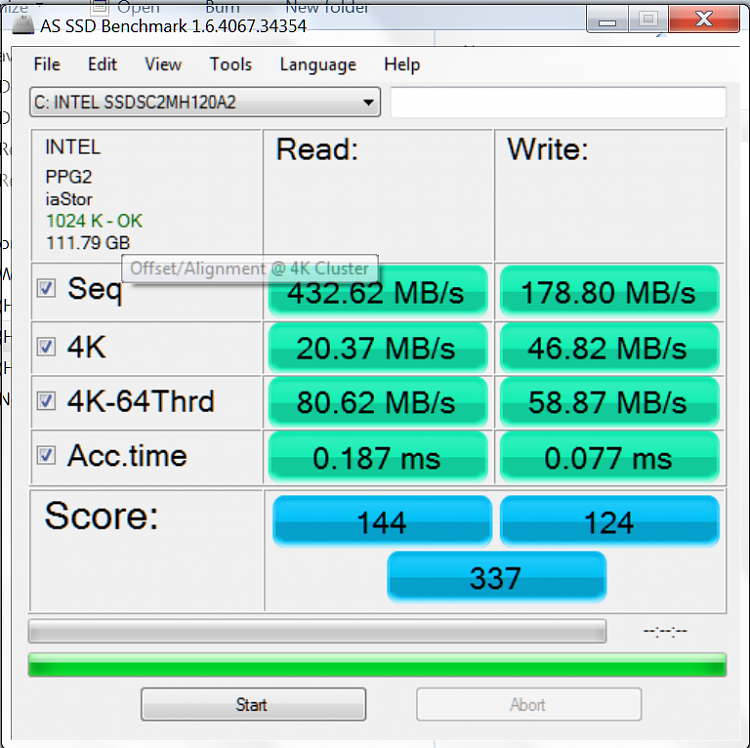 WEI & SSD benchmark, wishing SSD was really 1559 GB