Hi,
Looks good. Have you stress-tested for stability? The overclock isn't much good unless it stays stable under load.
Some stress testing tips:
1. Download IntelBurnTest from
download from Guru3D.com
- you use this to stress your CPU
2. Download HWINFO64 from
HWiNFO64 Download
- you use this to monitor your temperatures (important!!!)
3. Install HWINFO64 and run the SENSOR-ONLY bit from the splash screen - you should see a panel displaying key temperatures: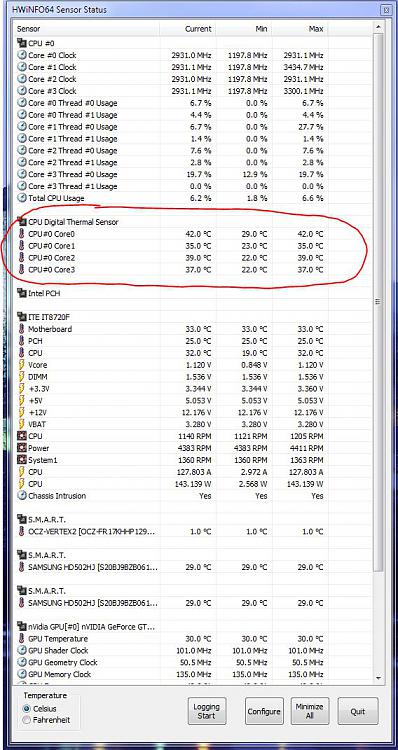 4. Run 3 IntelBurnTest stress tests using these settings:
- Standard
- High
- Very High
IMPORTANT
: you
MUST
monitor your temperatures during these test. You want to carefully observe the
CPU Digital Thermal Sensor
temperatures as shown above. Your CPU has a maximum TCase temperature of
72.6 degress
C - please confirm that with link below. Usually we add 5 degrees to that. So, if your CPU starts approaching 77.6 degrees C, immediately stop the tests.
Intel® Core
If your CPU passes the stress tests, then all 5 residual values, as ringed in red above, will be the same:
Let us know how you get on.
Remember that stress-testing stresses the system - you do so entirely at your own risk.
Regards,
Golden