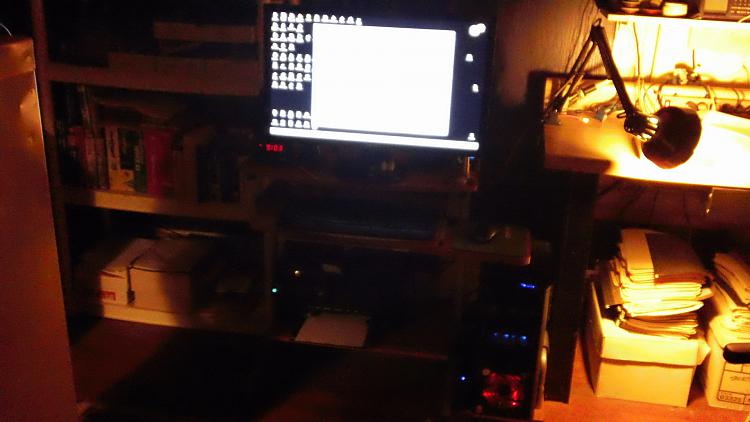 Sorry for the over exposure, but the lighting sucks in here.
EVGA nForce 790i SLI FTW Mobo
Intel Core 2 Quad Q9650 3.00 GHz
8-GB Corsair Dominator DDR3 RAM, 2 channel, 1600MHz
Arctic Freezer Pro-7 CPU Air
OCZ Vertex 2 120GB SSD (OS)
2xVelociraptor 150Gb in RAID 0 (File Storage)
1xVelociraptor 300 Gb (Bulk storage)
Corsair 750W PS
EVGA GTX 460
SoundBlaster THX SB 1290
27" ASUS
Win 7 PRO, 64 bit
I built this one around a 775 socket just to see how much I could get out of it with and without OCing. I was able to get 3.8G without trouble and it would have gone farther, but why push it. Right now it's stock, and that's the way I run most of the time. I use this rig for business and some gaming. Does everything well and runs cool always, even on those hot summer days when this room (no AC) gets into the high 80's F.