...But it still makes me wonder though why my water cooler was mad cold at first, and now its back to the same old same old. I mean it does not make any sense. If the cables are a problem, it would be consistent problem. It wouldn't be cool and then go to hot.
At least I think. I don't know.
Tell you what, I'll spend a hour or two today and try to get it tidier :)
Probably better in the long run anyway. Thanks guys. I'll attempt to get 2 people to close the back side of the case haha.
See here:
Temps problem (Again)
The bulk of the temperature problem could be the cooler itself isn't pumping properly (all components are subject to early failure or being DOA; some just do it more often than others), the pump may be running too slow because the fan header it is connected to is throttling it, or it might be a problem with the thermal paste. I recommend Arctic MX-4 because it lasts a long time, spreads easily, and doesn't require a burn in time. Also, make sure the filter at the front of the case is clean.
On to the cable management. I checked out your photos and looked up the case on NewEgg (it's discontinued there but they still have excellent photos of it) and you have plenty of room in that case (heck, it's huge!). The biggest offenders are your front panel cables. An excellent feature of your case are long front panel cables; too many cases have cables that are too short. Unfortunately, that length can also be a problem. You do have room for those cables behind the MOBO plate. Look at this illustration I found of your case:
Note where the front panel cables duck behind the MOBO plate through that top grommet. They reappear through the grommet below the MOBO (the MOBO pictured is smaller that yours so the distance from the grommet to the MOBO will be much shorter). Once the cables have been connected to the MOBO, you can bundle them together behind the MOBO plate, route them neatly and tie them down. Any excess length (and you probably will have some) can be pulled back through the top grommet and stuffed on top of the optical drive where it won't be seen (that's where I stuffed my excess front panel cables).
The power supply cables on your rig are all on the front side of the MOBO plate. You have room behind the MOBO plate for them. The previous picture shows them ducking through the nearest bottom grommet. The picture below shows the cables behind the MOBO plate: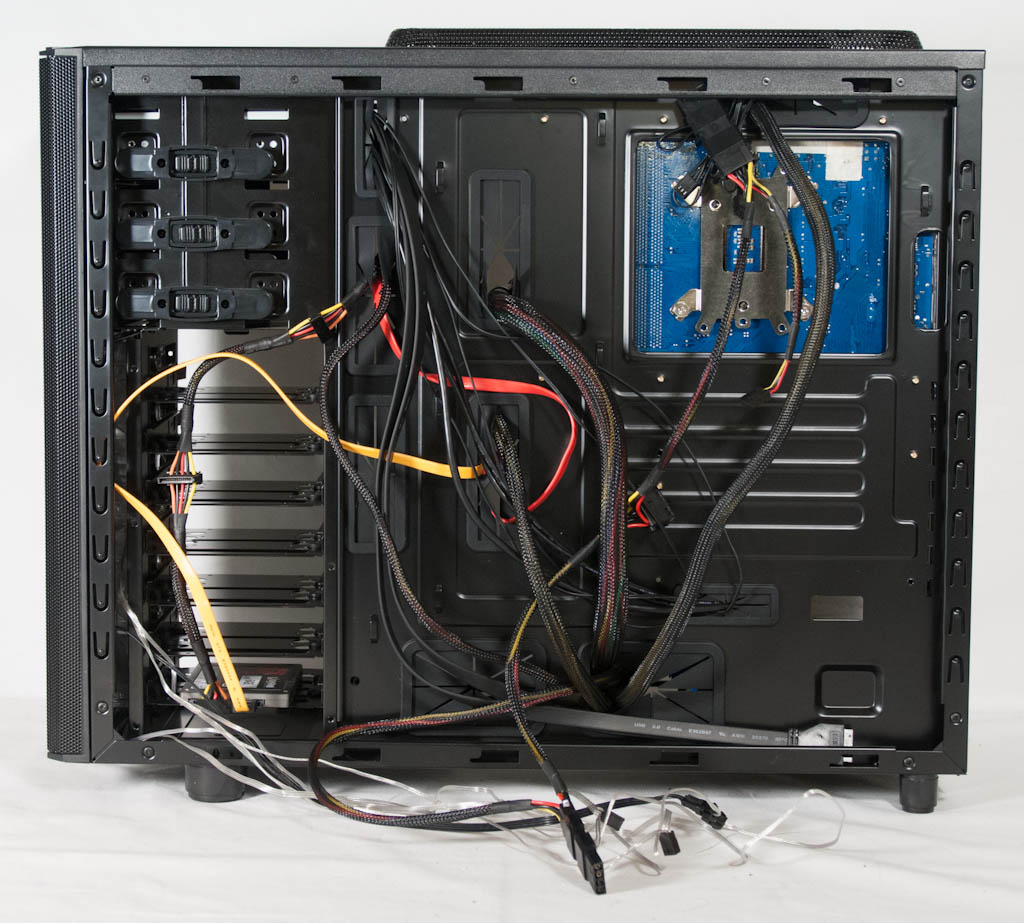 The PSU cables can be fitted back there so you can still get the side cover back on without using two men and a boy sitting on it. The cables here haven't been completely routed yet. The picture below is of a finished MOBO backside showing how the cables were run:
The idea is to avoid having too many cables crossing each other because that adds thickness that could interfere with the case side panel. I personally feel too many cables here are crossing each other in this photo and some careful rearranging would eliminate much of that but, as long as the side panel still fits without the assistance of two men and a boy, it will be fine. I would prefer to see the cables tied down in more places. One can always buy stick on cable clamps if not enough built in tie down points are provided. Cables can also be tied to each others. Zip ties are convenient but twist ties also work and can be reused. While somewhat less than elegant, "duct" tape will also help secure the cables.
I'm also uncomfortable with cables crossing over the opening in the MOBO plate behind the CPU, especially over the CPU cooler back plate. A lot of heat can be generated there that could eventually damage the cables. Also, there are often sharp points sticking up from the printed circuit board that could eventually work through the cable insulation. I'll admit I'm probably excessively anal on this point but all it would take to avoid this would be some cable extensions and some careful rerouting.
With a bit of creative planning, you can also get your SATA data cables behind the MOBO plate. Don't be afraid to get cables that are longer or shorter to accomplish that.
Here is a picture of the backside of my rig:
I ran my front panel cables through that big vertical sleeve. The sleeve is secured with 3M mounting tape and is oversized so I could flatten it out some so I could get the side panel on since I don't have as much room as you do and, being a single Lesbian, don't have access to the aforementioned two men and a boy. I had to add some cable management holes and grommets but your case has plenty of them. Note how the 8 pin ATX PSU cable has an extension added so I could route it around that big hole behind the MOBO. I had a space I could stuff any excess cables but you can avoid having all that by using different length SATA data cables. One reason I have so much to stuff in that space is the amount of SATA cables I have; a total of eleven (yes, it all fits in that case, along with an e-ATX MOBO). Eight of those are break out cables from the HBA card so I had no choice of individual SATA cable length. I custom made most of my PSU cables but, with a case as big as yours, you shouldn't need to do that.
This is the front side of my rig before I put the sound card in (I haven't taken a picture of it yet):
I still haven't reinstalled the fan hub yet in this picture (I had to temporarily remove it to install the HBA card). Even as tight and full as my case is, I still managed to keep my cables out of the way. I already have the cables in place for future HDDs (those little red thingies are dust caps on ends of the SATA data cables temporarily twist tied to the SATA power cable).