The cellular transceiver has a backup battery that supposedly will allow up to three hours talk time or up to 30 hours standby time in case of a power outage (I haven't tested it yet). However, the phones I plan on using with it the most are my old Panasonic cordless phones. Since the base station will die when the power dies and since I also wanted better surge protection, I decided to put a Cyberpower UPS unit in place of the now unused telephone modem. So I yanked the modem, hung the UPS on the wall, plugged the base station wallwart into the battery side of the UPS, and plugged the power strip into the surge arrestor only side of the UPS. It seemed like it would be a simple job at first, but the quarters are cramped and my back wasn't too happy with me (one of these days, I'm going to shoot Murphy) but I
finally
got it all in and the cables cleaned up a bit.
The red and blue CAT 6 cables going into the bottom of the new Keystone wall plate are connected to the router but I haven't pulled the cables for the other side of the wall plate yet. That will have to happen at a later date (that will really be a chore!). One will run to my computer and the other to my printer so I can turn the Wi-Fi off.
The new phone system is working great. The first thing I noticed was the lack of spam calls (although I did get one robocall the other day)! Silence is golden! I recently got a Verizon pay as you go flip phone to replace my antique Virgin Mobile Oystr (I need to give that relic to a museum). The Virgin Mobile number is clean; I've received only one wrong number and two telemarketing calls on it in the past ten years (both of the latter several years ago from the same outfit which incurred the wrath of an old Irishwoman) so I'm going to try to get that number ported over to the new home phone system in a few days. That should give me complete freedom from spam calls since I rarely give out my phone numbers.
One thing nice about the new phone system is, if I'm going to be out of town for an extended period of time, I can take it with me. One reason I have the extra phone cable is for a regular phone to serve as a backup in case the UPS runs out before the transceiver does and so I will have something small to take with me along with the transceiver. Also, long distance calls within the U.S. are free.
I got the transceiver (a refurb from Wally World) for only $30, including tax and two year service plan, and it came with a $15 card.
I tried to find another antenna so I wouldn't have to climb the wall to retrieve the antenna if I ever want to take the transceiver with me somewhere but couldn't find one to save my life. Huawei, the manufacturer, said I had to get it from Straight Talk and Straight Talk said I had to get it from Huawei (mutter, mutter, mumble, mumble...) so I ordered another transceiver. Since I can use the $15 card that came with it next month (after which, I'll set up autopay), the antenna cost only $15 and I got a spare transceiver free.
I have one problem, though. The antenna is a hard plastic indoor antenna and I don't know how long it will last out in the weather; the sun here in AZ can get pretty ferocious. I've been racking my brain (all three cells of it) for some way to weatherproof it. I thought maybe paint but paint pigments are either metallic or carbon and would cut signal strength. I don't think clear paint is UV resistant. Dipt (liquid vinyl coating) will weather pretty quickly. This is what the antenna looks like up close: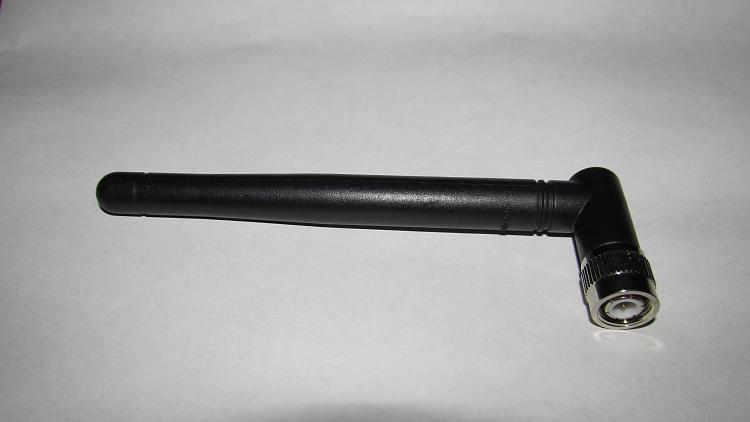 Does anyone have any suggestions?