...I have one problem, though. The antenna is a hard plastic indoor antenna and I don't know how long it will last out in the weather; the sun here in AZ can get pretty ferocious. I've been racking my brain (all three cells of it) for some way to weatherproof it. I thought maybe paint but paint pigments are either metallic or carbon and would cut signal strength. I don't think clear paint is UV resistant. Dipt (liquid vinyl coating) will weather pretty quickly. This is what the antenna looks like up close:
Attachment 381204
Does anyone have any suggestions?
Well, my search for a suitable outdoor antenna was fruitless but I may have come across a way to weatherproof the existing antenna. The old product I used to use for dipping tool handles was just a vinyl product and wouldn't weather well but there is a newer coating out—Plasti dip—that is supposed to be far more durable. A lot of car enthusiasts use it to protect and enhance car rims, logos, body panels, and even entire car bodies and it holds up for a year or more under that harsh of an application so I got a can of the stuff.
Since I couldn't get an extra antenna from Huawei or Straight Talk, I bought another transceiver just for the antenna, although I'll be keeping the transceiver for a spare (although I paid $30 for the package, it came with a $15 airtime card as part of the promo so the antenna cost only $15 and the transceiver was free...or was it the other way around?), tied a string on the connector end and masked off the connector with electrical tape, then dipped five coats of the stuff onto the antenna, letting it dry 45 minutes between coats. After letting it dry for four hours, I cut away the coating over the connector. This is the result: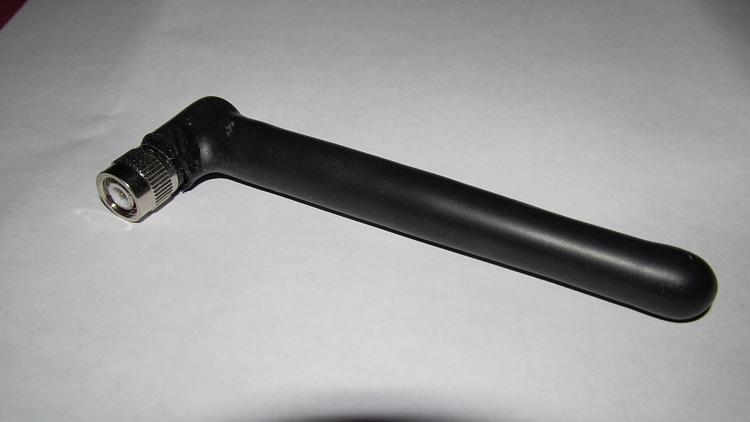 I tested it inside the house by disconnecting the outside antenna cable from the transceiver and connecting the coated antenna to the transceiver. When I first got the transceiver, the antenna was able to get one bar of reception inside (the reception strength, from low to high, is one blinking bar, one bar, and two bars). The coated antenna also got one bar so the coating didn't affect signal strength any. I'll have to swap out the coated antenna with the one that is currently outside later (I just don't feel like dragging out and climbing the ladder today). Time will tell how well the coating will hold up to the weather but it should last at least a year, hopefully more. If it does fail, at least the coating will be easy to peel off.