...I tested the prototype by pulling the 3.5" hot swap bay from my computer so I could use its connections but I'm too lazy to do that again so I ordered a USB 3.0 to 22 pin SATA cable so I can just plug one end of the cable into the back of the 2.5" swap bay and the other end to a USB 3.0 port to test the others. I should get it Thursday...
I received the cable today and used it to test the five swap bays I modded so far. The cable is intended for running a 2.5" drive off a USB 3.0 port but I saw no reason why I couldn't use it to test the swap bays.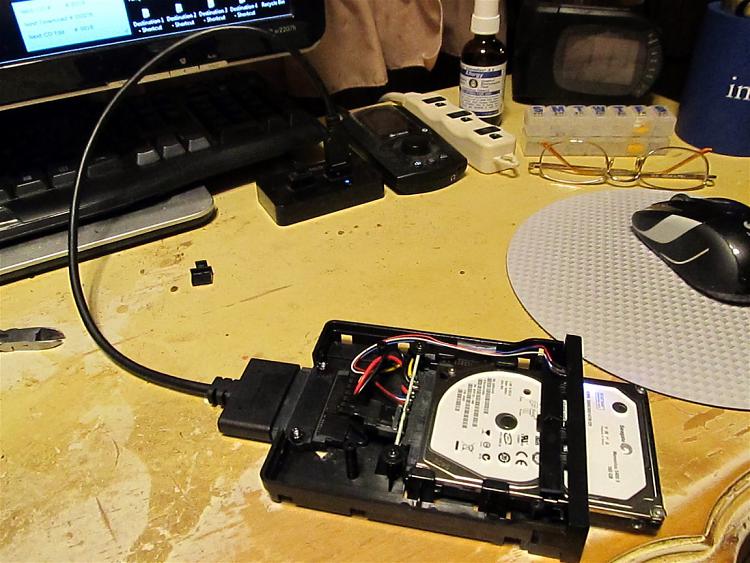 For testing the swap bays, the cable worked like a champ! As far as I'm concerned, the time and effort it saved me when testing the swap bays paid for the cable, even if I never use it for anything else (and I'm sure I'll find another use for it someday, maybe even its intended use). I just plugged it into the USB 3.0 hub on my desk and plugged each swap bay into the cable. Four of the five worked; one didn't

. I opened the dead one up and managed to isolate the problem to the mighty midget SATA cable inside. It was one of the earlier cables I had problems with getting the little cable retainer to line up properly before I hit on a way to guide the little bugger into place. When I swapped out the existing cable with the one that was destined for the last swap bay to be modded, it then worked properly.
Apparently, the little "teeth" in the connector managed to snag enough conductor to work when I tested it while the cable was still straight but lost contact when I bent it into the S shape. When I removed the offending connector, the "teeth" were bent beyond straightening so I "stole" a connector from a spare cable (thank God I bought plenty of spares to cover the "learning curve"), snipped the end off the damaged cable, and installed the stolen connector on the fresh end. I tested it when I modded the last swap bay (pictured above) and it worked just fine and dandy.
I noticed one odd thing when testing the swap bays: five of them had blue LEDs that lit up when a drive was inserted in the bay. The sixth one's LED was red (or green; I'm color blind and can't tell). It's no big deal, just kinda weird.