Hello, back again.
Yesterday I was working with the project, cutting, mounting etc... So the results are:
I got CM E1 thermal pound for the CPU. It cames with 3 or 4 grams package, so I put on my brother pc a bit. :)
The HDD was mounted on the rack that came with my previous case. Hdd and Ssd are not mounted on the board, they just "float". HDD will be screwed and the SSD will be mounted with velcro.
I got some adhesive carbon tape, that help me to "hide" that ugly wood color. I got it year ago from AliExpress. It helps me now. :)
Everything mounted on the board.
Testing the fans, ok.
I was not precise while drawing, so the GPU grill was not fitting good. I was using some tools to make it fit. Yea, that is so ugly, but it will pass, cuz it's on the backside, and nobody can see it. :)
Backside with PSU's, I/O.
And, one quick video for the project. It was recorded with Messenger app, so the quality is really bad, sorry about that. FullHD video will come after I mount led stripes, two more fans and buy a monitor. :)
Quick Test Video
Here are two screenshots from the setup. Temperatures are great in idle, even lower that I expected.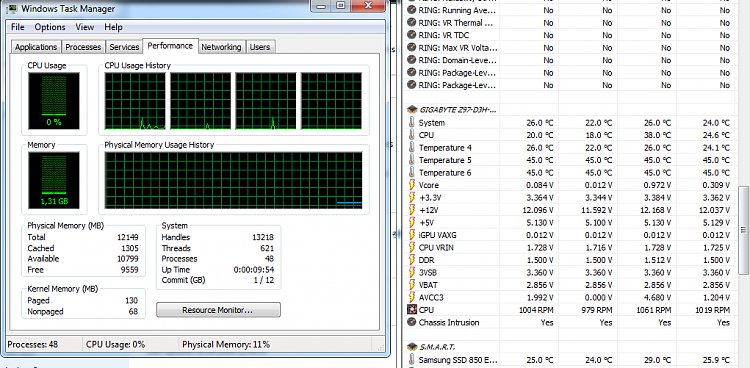 One SC from the WEI, with new CPU installed.
That's what I've done, and there's the quick test on the project.
Things to do next:
- buy a glass for the topside.
- buy led stripes for the inside.
- buy two more 120mm fans, even the idle temps are excellent now.
- buy a monitor.
- buy a swith for the Power/Reset buttons.
That's the rest, but maybe it will take a while, cuz I need extra money for that, especially monitor. :)
Thanks for the help and for the attention. Any critics are welcome.
Boshko.